【Advanced Processor with Windows 10 Pro】This small U500-H mini pc equipped with advanced processor Intel Core i3-5005U and Windows 10 Pro pre-installed, which offers an excellent performance of Internet and Office applications, Media player, Monitor, Projector and TV. An ideal Mini PC for users to play games, utilize apps, stream video contents, etc.
【Large Capacity】Installed 8GB RAM + 128GB SSD+ Micro SD card up to 128GB(not included)+ Upgrade RAM(up to 16GB)+DIY NGFF M.2 2280 SSD(up to 1TB)+DIY 2.5"HDD(up to 2TB)
【Triple Screen Output】Gigabit Ethernet LAN 1000M, Dual Band WiFi, Triple Screen support to ensure smooth navigation, responsive work processes and comfortable handling of apps and files.
【Features】
  1) supports Linux and Chromium System, Wake On Lan and PXE boot. Support extend RAM, SSD and HDD.
  2) Making the gigantic desktop power in a tiny package, the Mini PC full of all traditional desktop's features.
  3) Powered by the Intel i3-5005u processor, get avoid of cluttering and compromising performance.
  4) Compact, Light, Quiet and Powerful.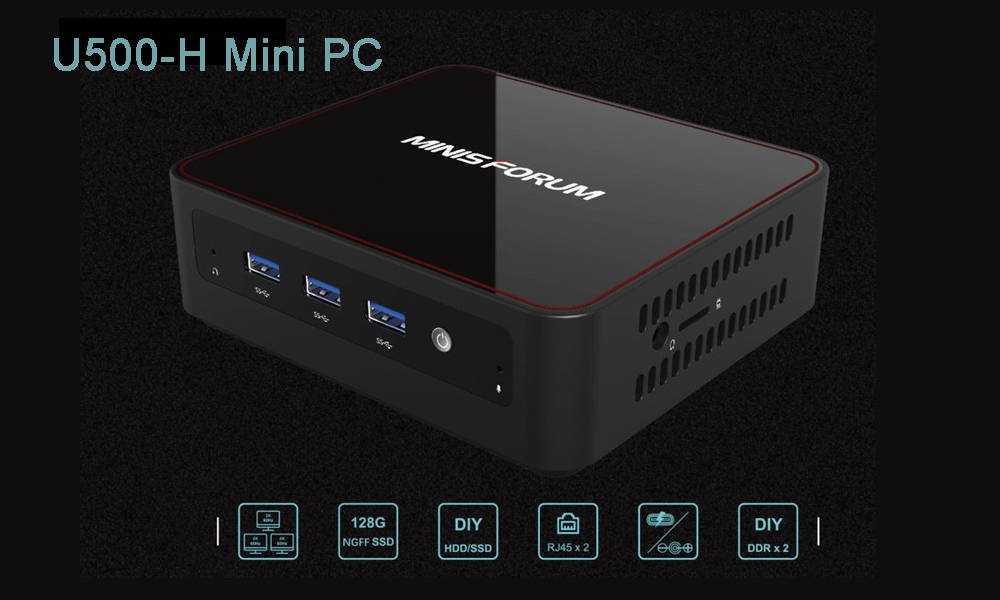 Features & Functions for U500-H Mini PC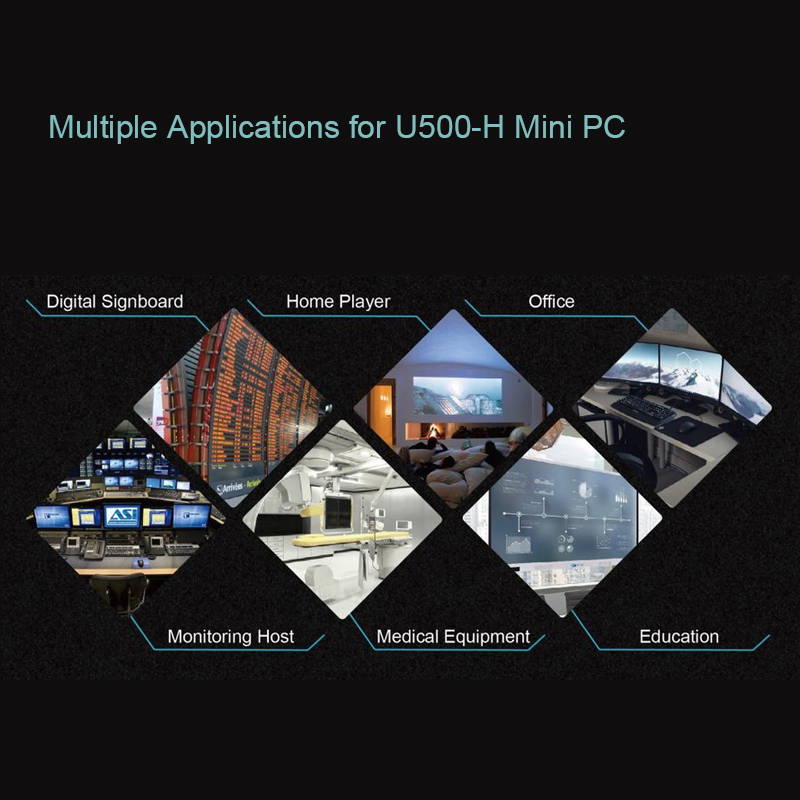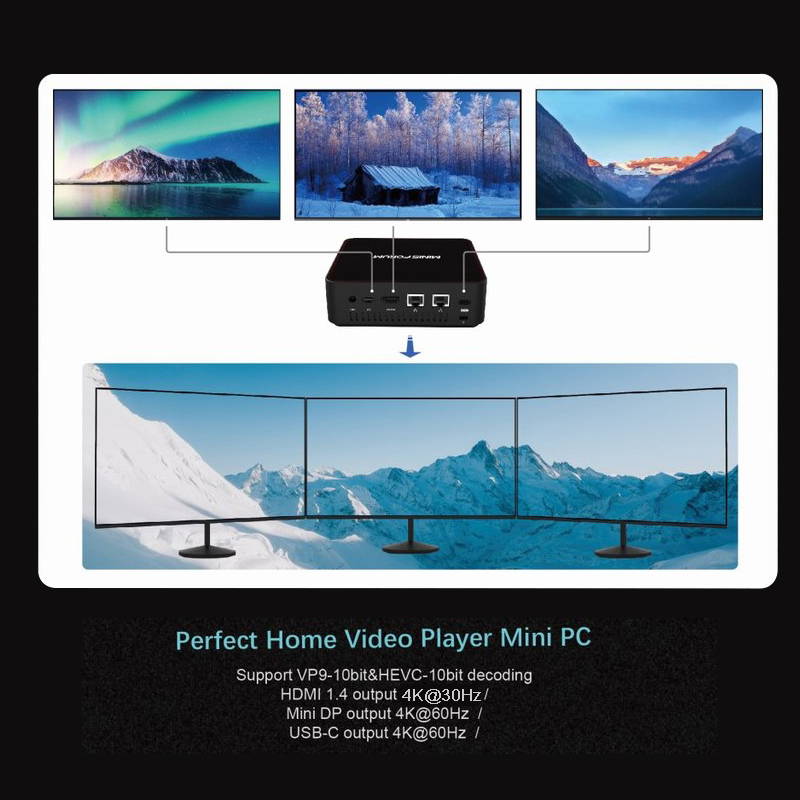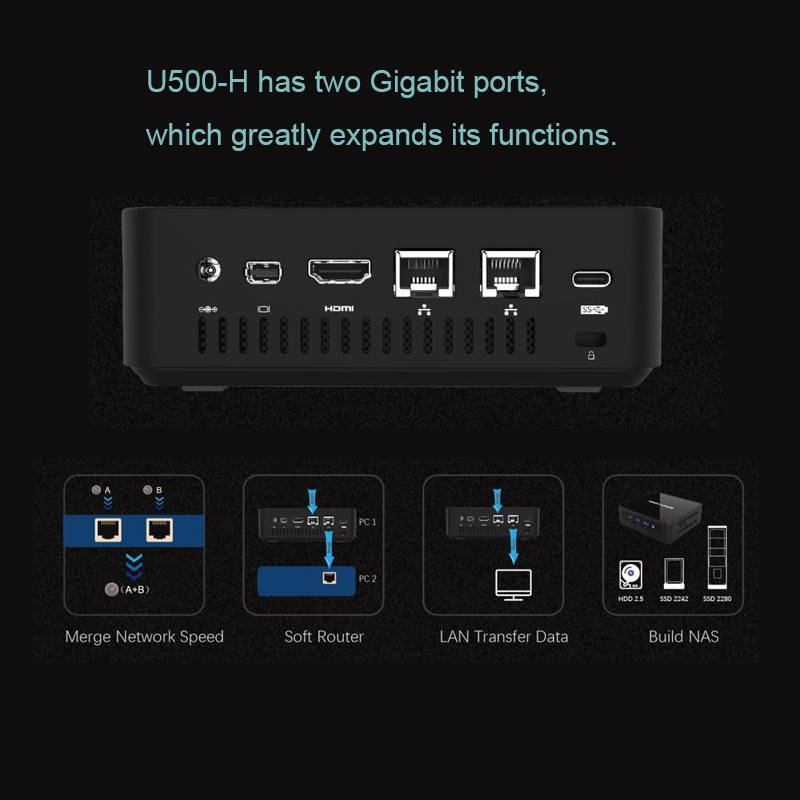 Multiple Applications Support
U500-H Mini PC is a wisdom idea for multiple commercial applications. It can be used for Prejector, TV, Minitor, Monitor Equipment, Printer etc.
Perfect Home Video Player Mini PC
Equipped with HDMI, Mini DP and USB-C, you could connect three monitors at the same time, more efficiency, fluency and definition your work or more fun for your entertainment.
Two Gigabit Ethernet Support
Two built-in Gigabit Ethernet makes transfer and download more faster. Easy to use and much more efficient.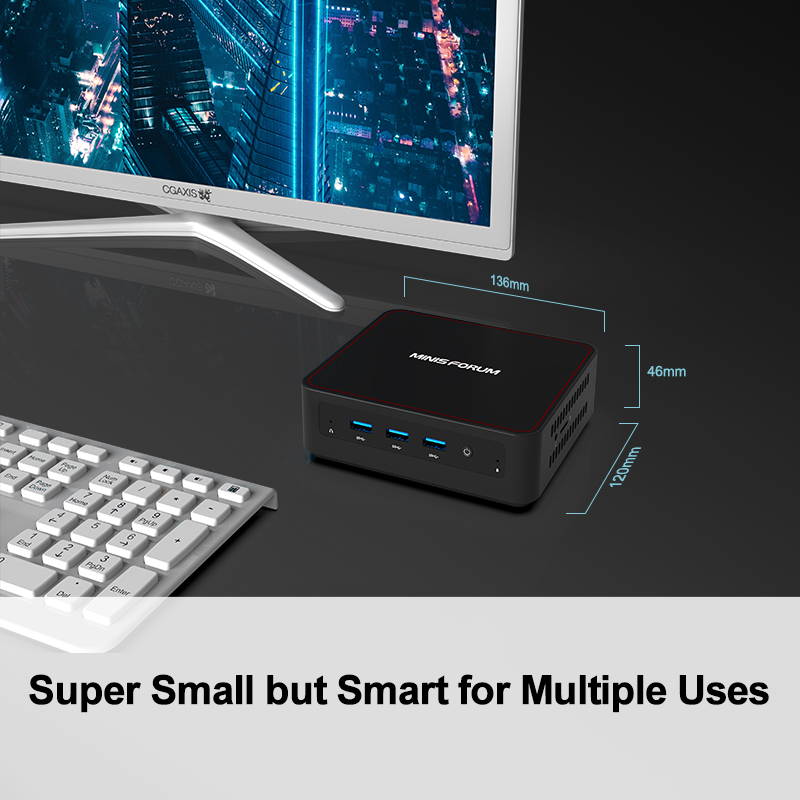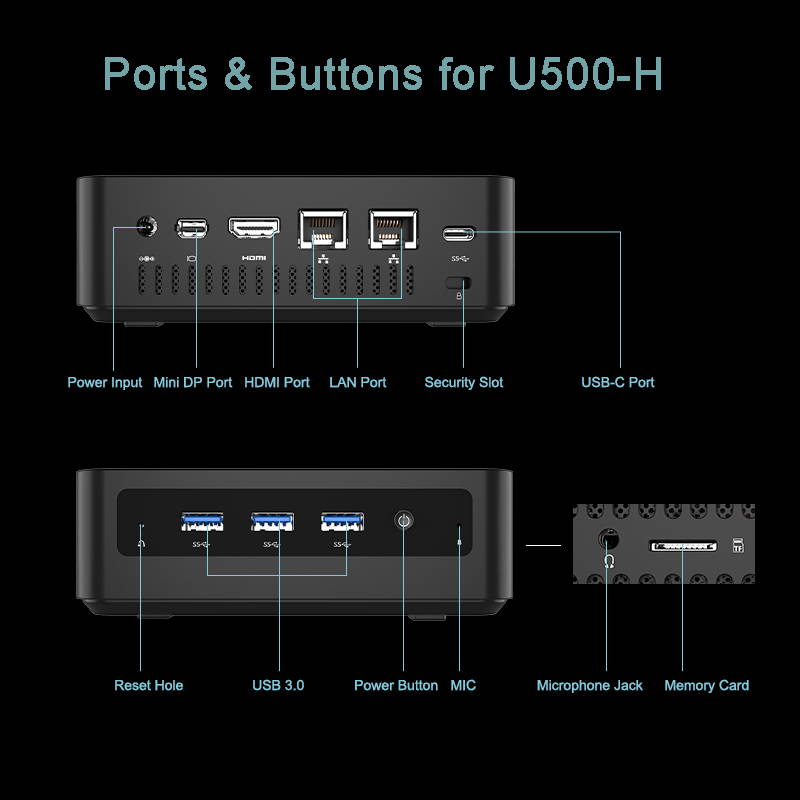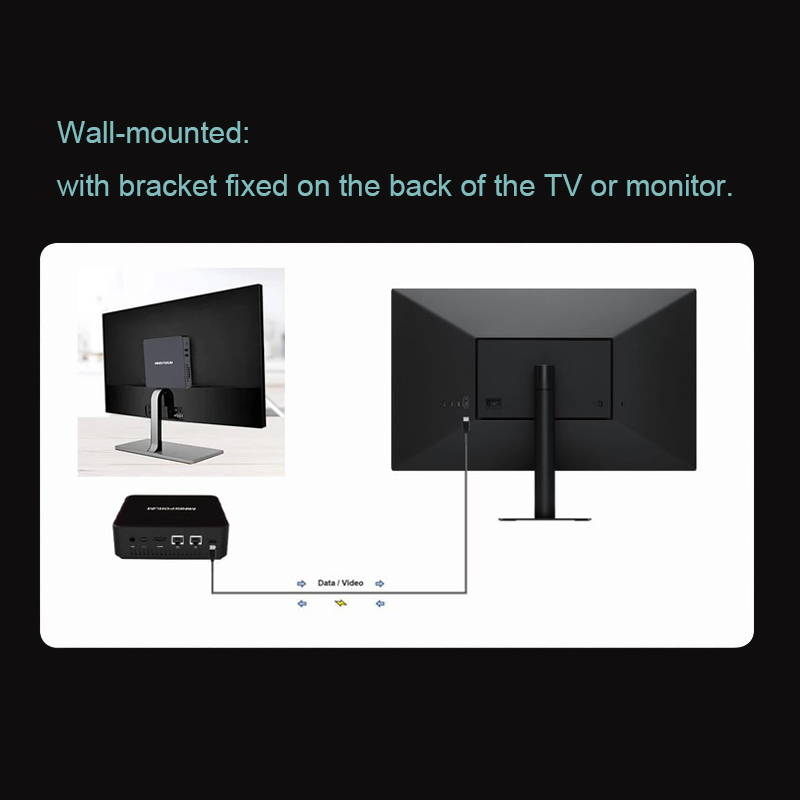 Small but Powerful DeskMini PC
U500-H DeskMini PC is small but powerful -- easy to carry with, easy to pocket. Make you work or entertainment everywhere you want.
Ports & Buttons for U500-H:
1* USB-C (PD + 4K@60Hz Video + Dual)

1*HDMI 1.4 Port (4K@30Hz)

1* Mini DP Port (4K@60Hz)

1* DC 12V/3A Input

1* Headphone Jack

2* Gigabit Ethernet

1* Power Button

1* Reset Button

3* USB 3.0
Wall Mount include for Saving Space
The Wall Mount is included in the package, you could fix it on your back of the TV or monitor, which can save your room and make your desktop tidy and neat.
Minisforum U500-H Mini PC
Intel® Core™ i3-5005U Processor , 2 Cores/4 Threads
(3M Cache, 2.00 GHz)
DDR3L 8GB×1 Dual channel (SODIMM Slots×2)
1×2.5 inch SATA HDD Slot (SATA 3.0 6.0Gb/s)
1×TF Card Slot (up to 128GB)
IEEE 802.11ac Dual-Band Wi-Fi,BT4.2
① HDMI 1.4 (4K@30Hz)
② Mini DP(4K@60Hz)
③ USB-C Port(4K@60Hz)
HDMI 1.4, MINI DP, 3.5mm Audio Jack
RJ45 Gigabit Ethernet Port×2, USB 3.0 Port×3, TF Card Slot×1, DC Jack×1, Digital MIC×1
1 * USB-C (PD + 4K@60Hz Video + Dual)
1 * HDMI 1.4 Port (4K@30Hz)
1 * Mini DP Port (4K@60Hz)
1 * DC 12V/3A Input
1 * Headphone Jack
2 * Gigabit Ethernet
1 * Power Button
1 * Reset Button
3 * USB 3.0
DC 12V/3A (adapter included) , or via USB-C Port
1 * Minisforum U500-H Mini PC
1 * Power Adapter
1 * Mini DP Cable
1 * HDMI Cable
1 * Mounting Bracket
1 * User Manual
Q1: Can I hook this mini pc up to 2 displays wo using the VGA port?
A: Yes, you can connect 2 displays via VGA and HDIM ports.
Q2: Does this support debian linux?
A: Yes, this mini pc supports Linux system.
Q3: What are the lan chipsets on the i3-5005u mini pc? intel or realtek?
A: The lan chipsets on the i3-5005U mini pc is REALTEK.
Q4: Can it be working on wireless keybord?
A: Yes with usb adapter.
Q5: Is this compatible with crucial mx500? ct250mx500ssd4 is the model number. It gets stuck on bios.
A: U500-H not support 2.5-inch SSD(Solid State Drives) , only support 2.5-inch ( Hard Disk Drive)
Q6: Please clarify: how much ram and hdd space is provided out of the box?
A: This mini pc equipped with 8GB RAM and 128GB SSD.If the product has any problems, you can communicate with us via e-mail: minisforumtech@gmail.com, We will do everything possible to resolve your problem.
Q7: Is this single channel ram or does it have 2 ram slots?
A: It has two ram slots, thanks.
Q8: Can I connect to internet with WiFi, then use ethernet ports to supply lan access to other devices?
A: Yes, you could connect to internet with wifi, than use the ethernet port to supply lan access to other devices, thanks.
Q9: How long can this computer be left on?
A: I have mine hosting an application that runs 24/7. Has been running continuously for many months except for occasional reboots for Windows updates.
Q10: Can the U500-H be connected to a pair of monitors that are both HDMI?
A: The U500-H Mini PC has one HDMI, one Mini DP and one USB-C ports, you could use a USB-C to HDMI port to make it connect to a pair of monitors, it doesn't support Mini DP to HDMI adapter at present, it supports Mini DP to VGA adapter.
Q11: What is the key in order to bring up the boot menu?
A: You could press F7 constantly after starting the mini pc or press "Delete" to enter into the BIOS and choose boot menu.
Q12. Will I need to pay custom duties or taxes on my orders?
A: Items shipped from all our warehouses are not subject to export taxes. However, if you are shipping an item from one county to another (shipped from China), you may be subject to pay local taxes and custom duties on said item. The customer is solely responsible for these expenses.