Discount Code: C-HBNV98ZQXCTH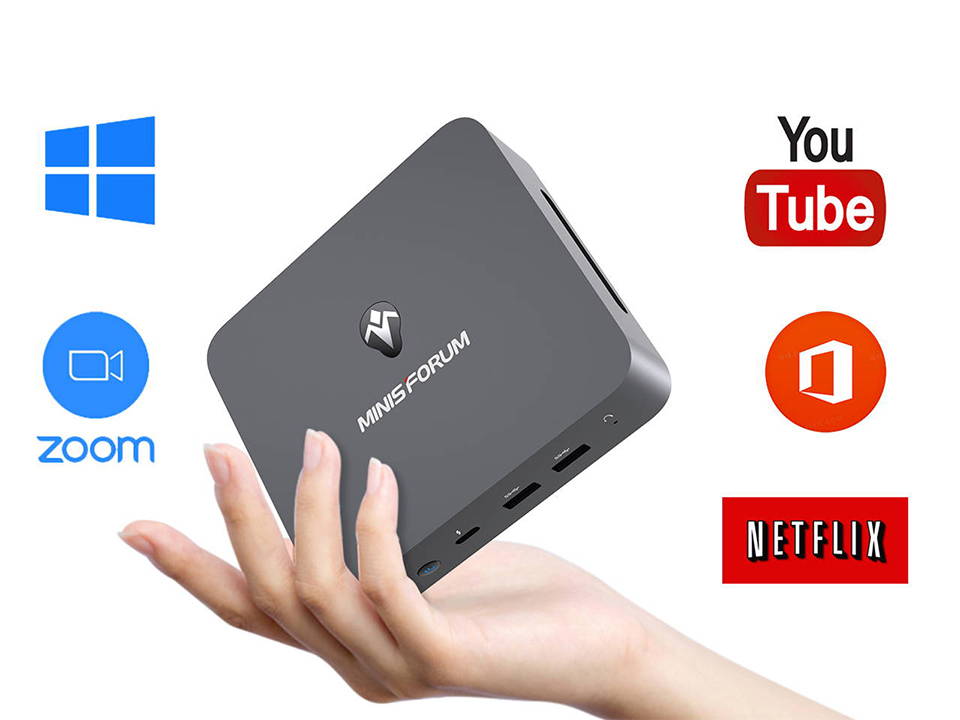 The X35G boasts powerful 10th Gen Intel Core i3-1005G processors that are based on 10nm production technology. Compared to the 8th Gen Intel Core i3, which is based on 14nm technology, the 10nm technology achieves faster operations while reducing power consumption immensely. It is equipped with built in Intel Wi-Fi6, the latest technology which allows you to surf the web at speeds of 300MB/s which is 2.77 times faster than 5G Wi-Fi speed.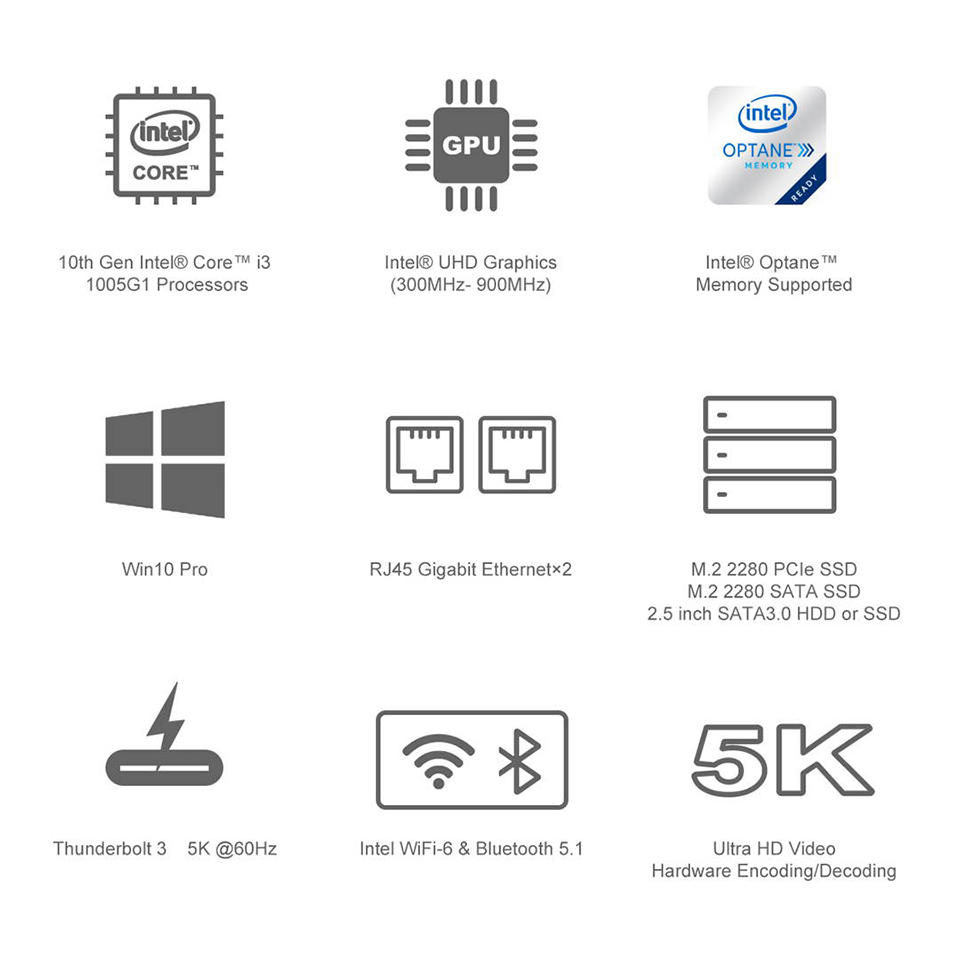 Intel 10nm Core Processors Turbo Frequency 3.4GHz
DDR4-3200MHz 16GB (Dual Channel pre-install)
X35G adopts Intel® CPU, compared to the 8th Gen Intel® Core i3-8130U and i3-8145U, the 10th Gen Intel® Core™ i3 has some significant improvements. It can achieve faster operation and reduce power consumption.
Supporting more faster system memory (RAM) and higher frequency speed. Minisforum is the first mini pc with built-in Optane Memory, which makes mini pc to increase the speed of boot, software loading and file loading. Even can speed up the speed of game loading, also boost your work more efficiency.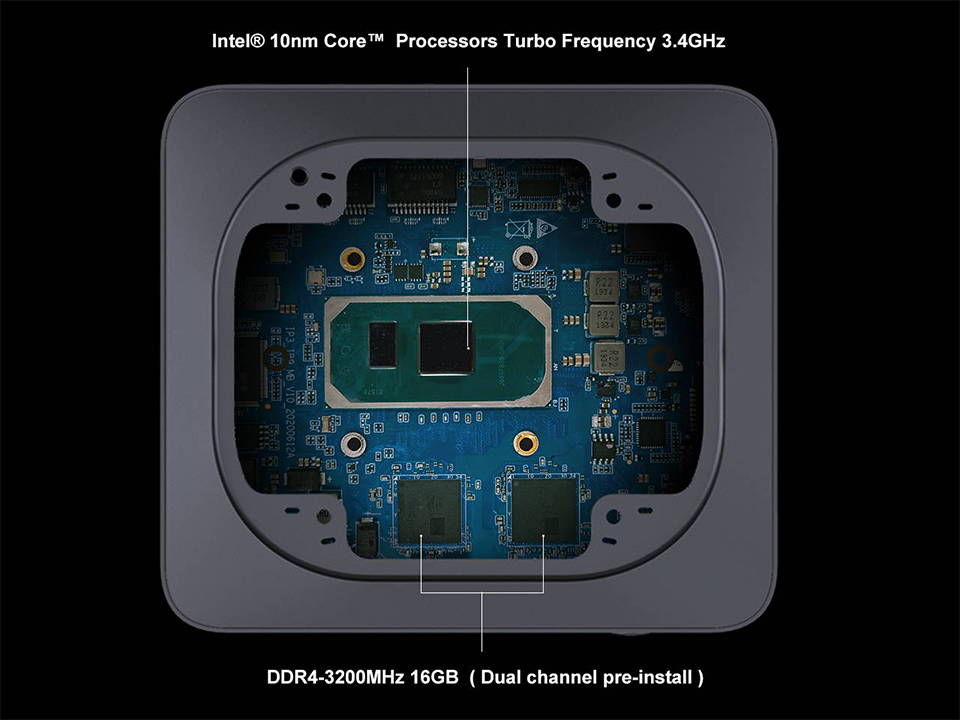 Faster Network Experience
X35G built-in Wi-Fi6: with the latest Wi-Fi 6 technology, you can surf the web at the speeds of 300MB/s, 2.77 times faster than 5G Wi-Fi speed. Also BlueTooth 5.1 pre-install, RJ45 Gigabit Ethernet×2, this makes this MiniPC a perfect soft routing machine.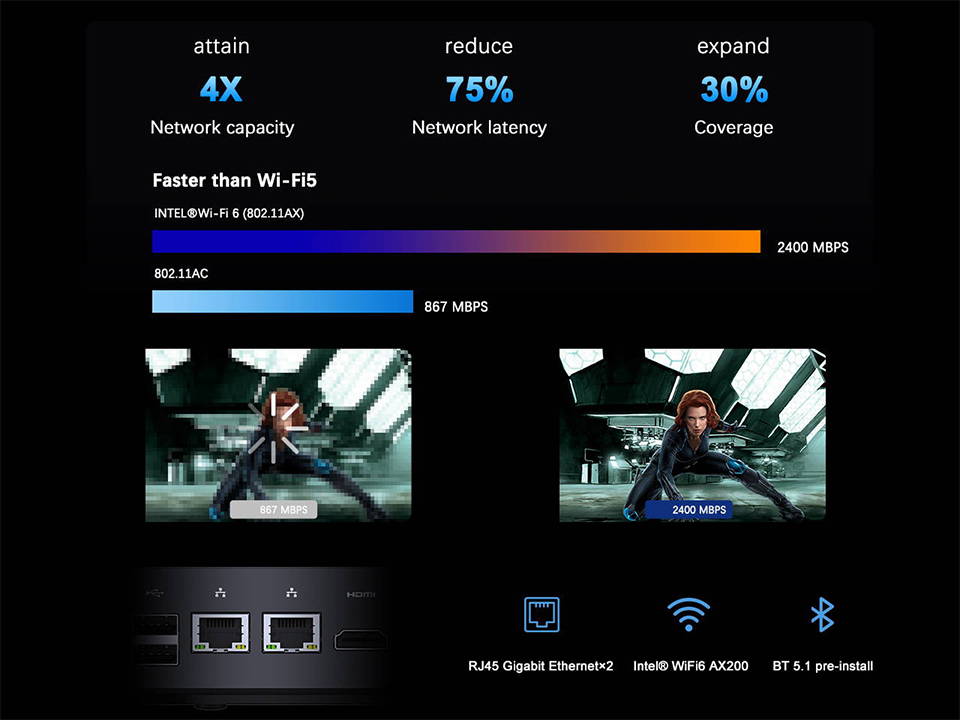 1×2.5 inch SATA3.0 HDD or SSD Supported
1×M.2 2280 SATA SSD Supported
M.2 2280 NVME SSD (pcie3.0 4X) Supported
Intel Optane Memory Supported
Flexible storage, easy to expand, 2.5-inch HDDS large capacity with low cost, support NVMe SSD fast read.
Thunderbolt 3 (UBS-C) : 5K@60Hz
HDMI 2.0: 4K@60Hz
Display Port: 5K@60Hz
The MINISFORUM X35G has multiple input/output ports, providing multiple ports for different types of peripherals.
Thunderbolt™ 3 brings lightning speed and performance to USB-C, creating one thin, reversible compact port that delivers the fastest2, most versatile connection to any dock, display, or data device.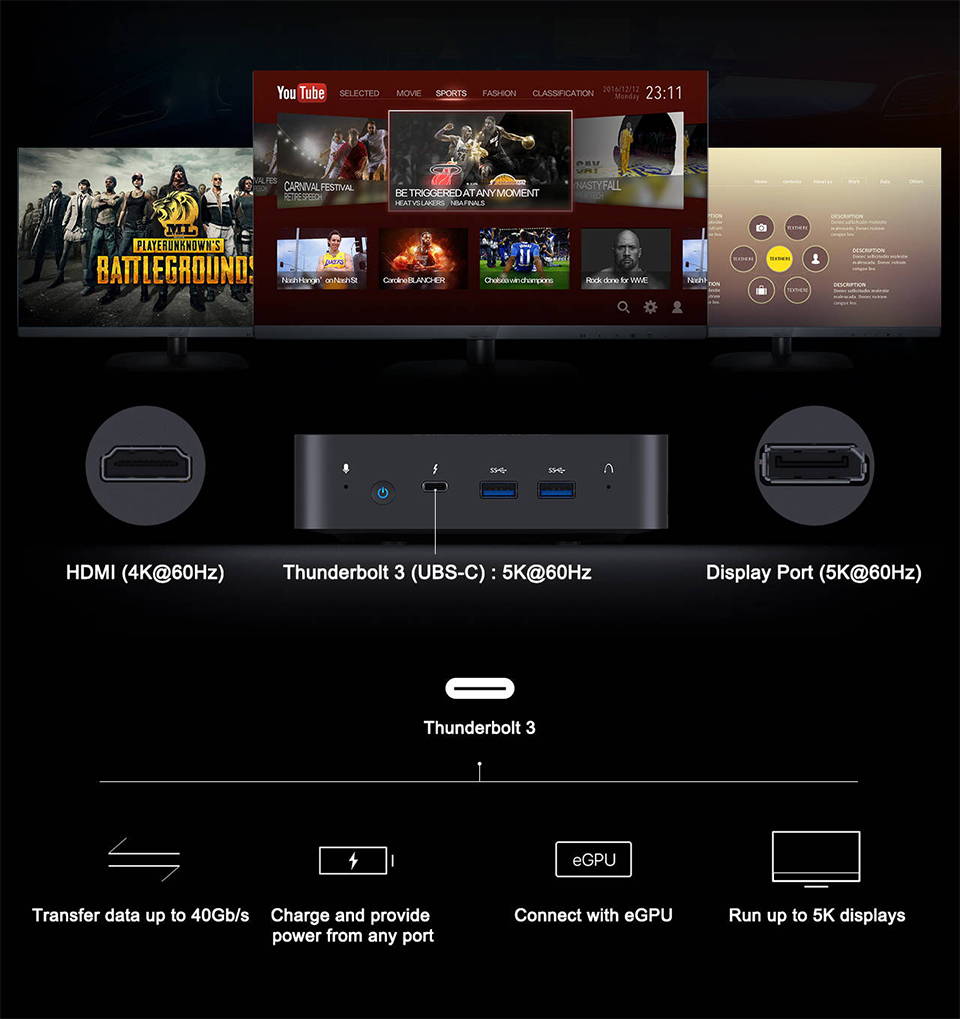 【Dual RJ45 LAN Ports】X35G comes with two Gigabytes LAN ports, which provide you much more network usage, such as software router (Open WRT/DD-WRT/Tomato, etc.), firewall, NAT and network isolation, etc.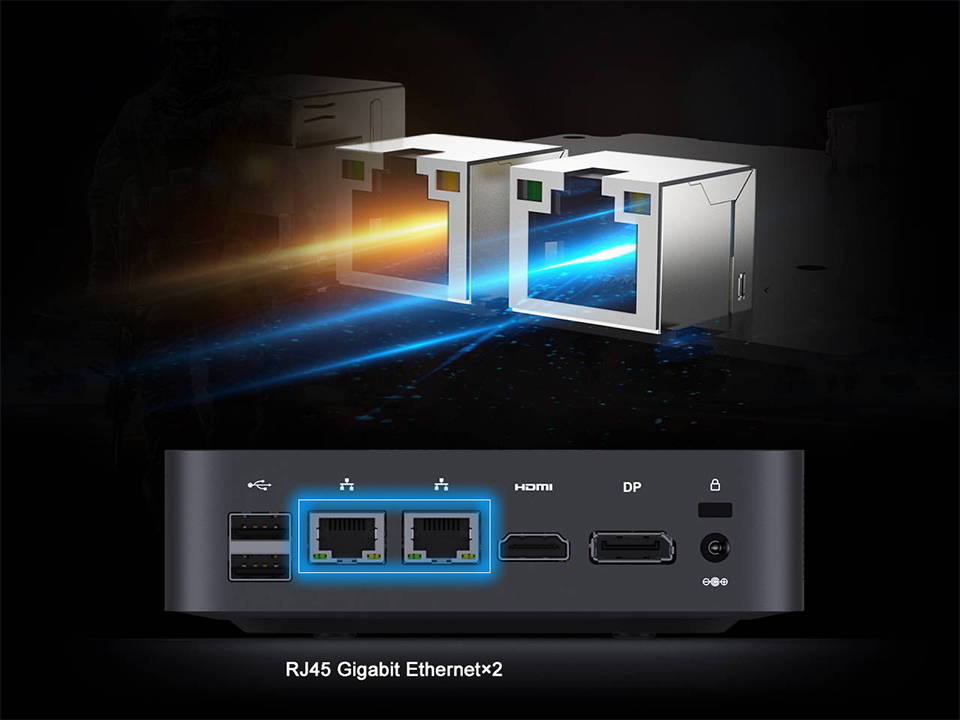 Multiple types of interface allow you to have fun with multi-screens, high-definition playbacks, and other functions.
This Mini PC effectively dissipates heat out of the casing. It is designed to be ready to handle 25W TDP CPU (two heat pipes of pure copper). There is a Heatsink with a Centrifugal (Blower) Fan.
The motherboard has another additional intelligent temperature control system to ensure heat dissipation execution under ordinary working conditions and it's maximum quietness. At the point when the CPU load increments to 100%, it will naturally speed up to rapidly release the heat. This will also give improved product execution and soundness.
Boost Your Work Effeiciently
X35G represents a new attempt and match. The addition of Optane not only heighten hard drive performance, but it also has both speed and capacity. It can increase the speed of your software loading and document reading faster. Greatly improve work efficiency and comfort, also get rid of unpleasant work experience caused by stalls and crashes. Besides, X35G comes with Thunderbolt 3 and supports 5K video output. HDMI 2.0 supports 4K at 50FPS and 60FPS frame rates and expands the bandwidth to 18Gbps.The transmission speed of Thunderbolt 3 is 40GB/S.
Good Companion at Home or Office
The VESA mount is all set for easy installation on the back of televisions or monitors compatible with VESA, which allows X35G to turn into a home or office-friendly device.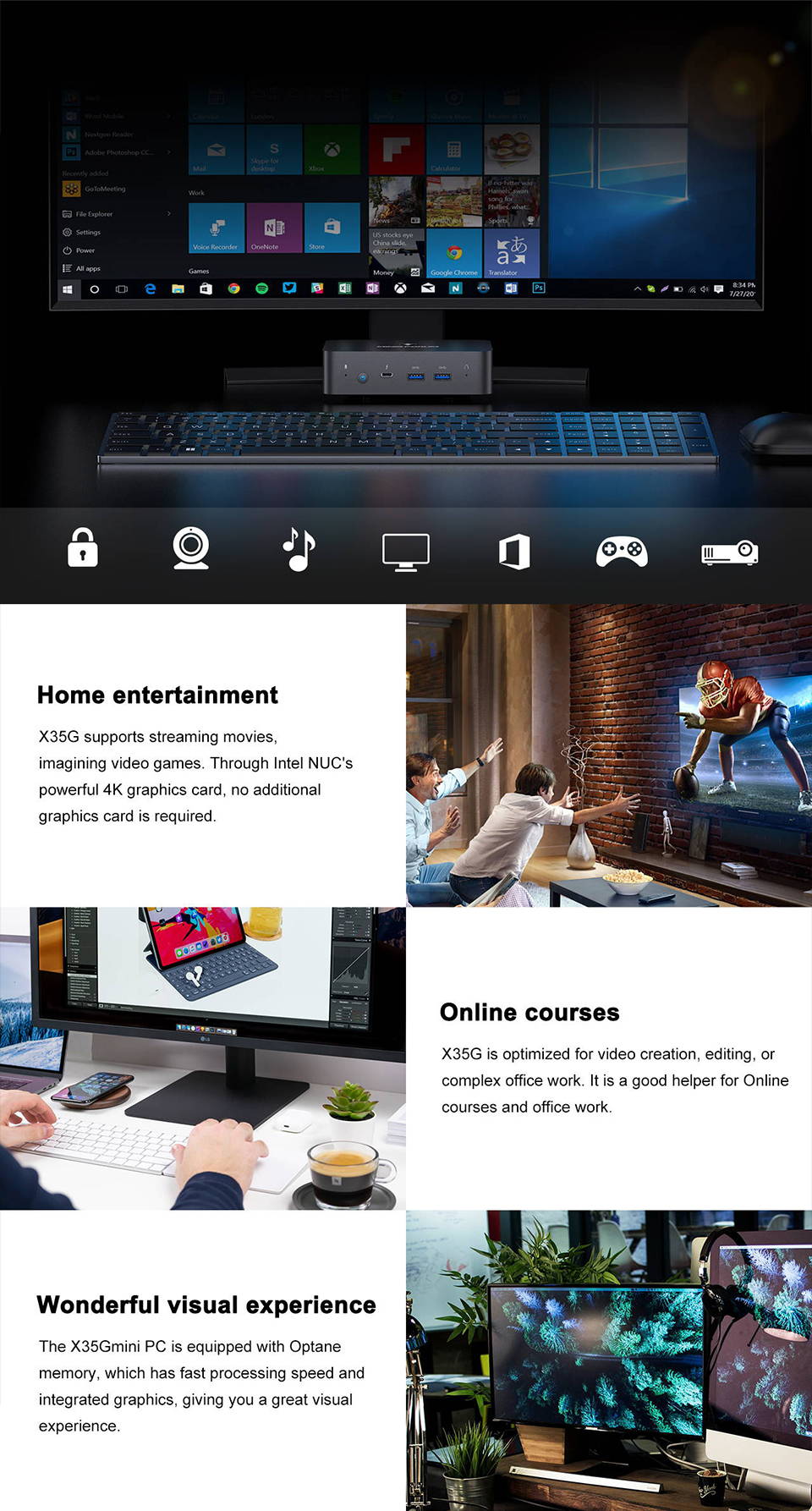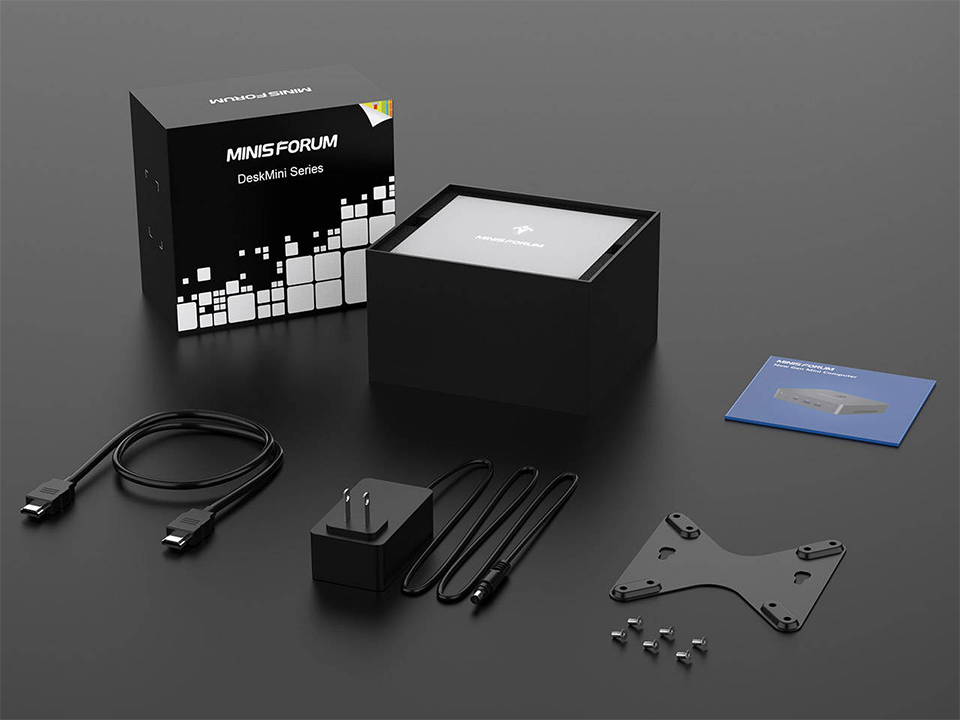 Features & Functions for X35G
High Definition 4K Triple Displays
X35G Mini PC brings you ultra-realistic 4K UHD visuals with incredible clarity and maximum productivity in your workflow with excellent triple display solutions using HDMI with 5K@60Hz, DisplayPort as well as USB-C output. You can connect multiple screens in the same time for more efficiency.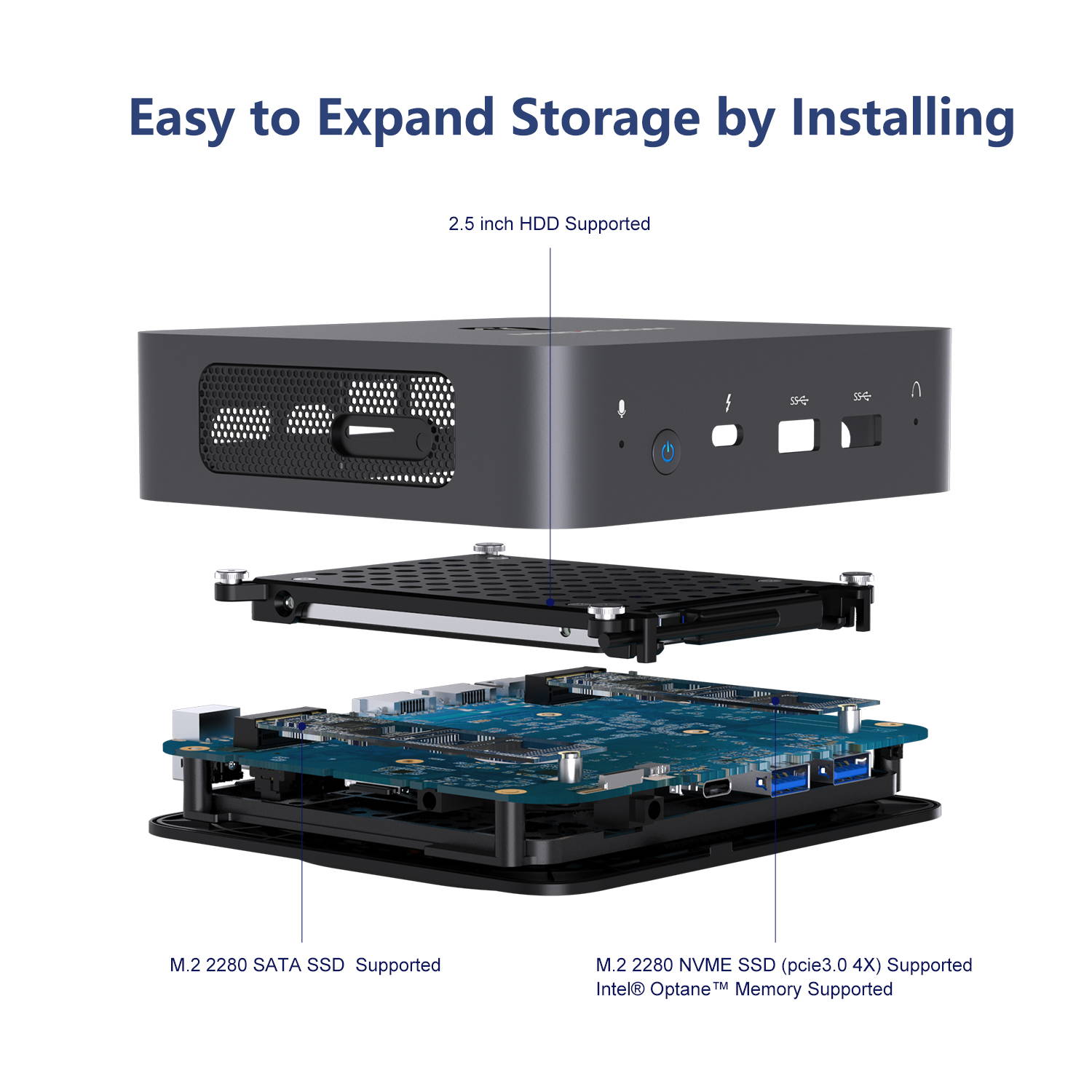 Large Capacity and Storage Upgradable
X35G support DDR4-3200MHz 16GB (Dual Channel pre-installed), Optane™ Memory, 1TB HDD. It's easy to install the storage even if it's the first for you to add a storage.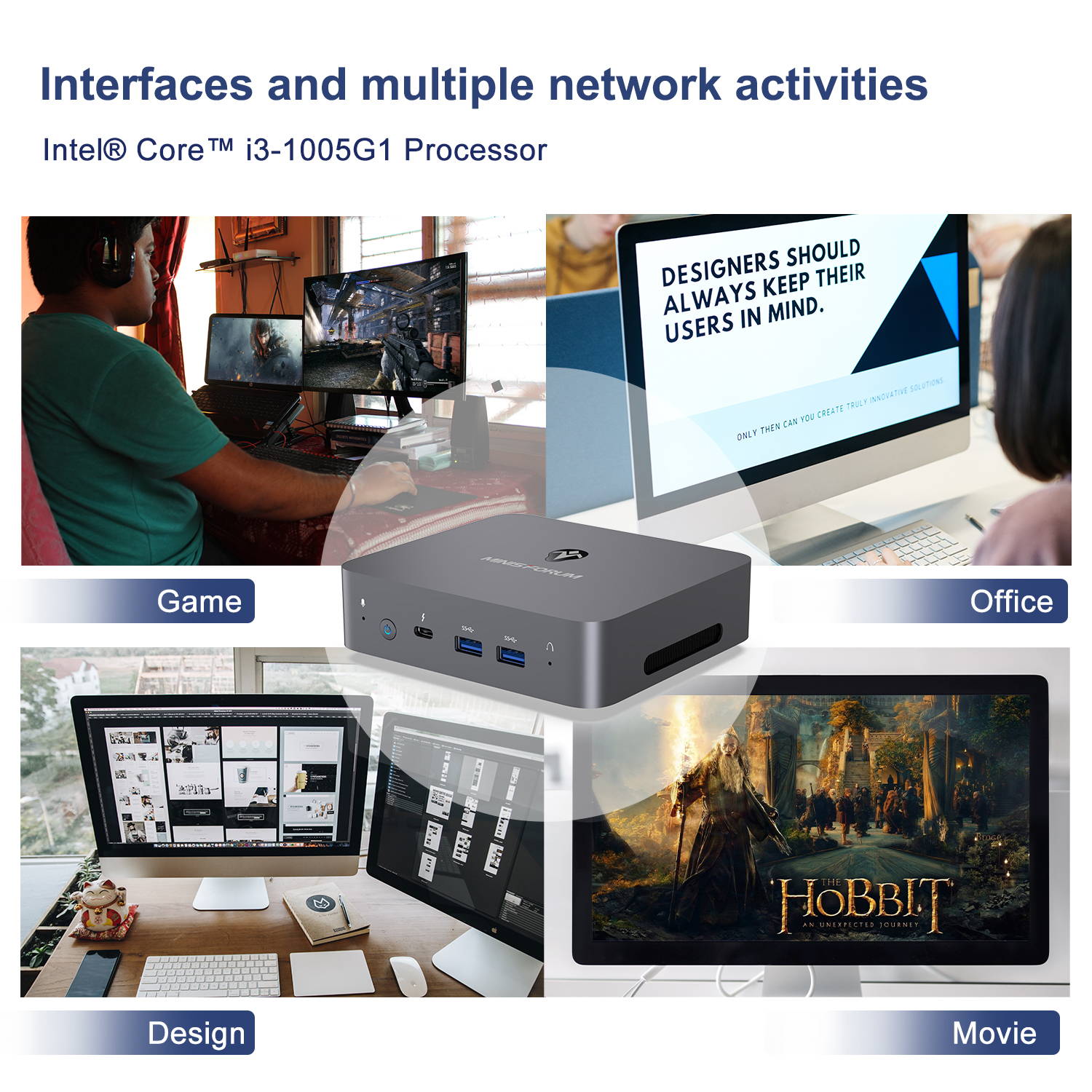 Interfaces and Multiple Network Activities
Great choice for multiple commercial and industrial network activities. It's a ideal helper which can be widely used for Home Theater, Office Work, Meeting, Education, Projector Monitoring, Host, Printer, Media Equipment, Digital Signboard, also it's powerful enough for games and PS etc..
Ports & Buttons for X35G
RJ45 Gigabit Ethernet Port x2
USB 3.1 Port (Gen2, Blue) x2
Display Port (5K@60Hz) x1
HDMI 2.0 (4K@60Hz) x1
Microphone Jack x1
Kensington Lock x1
Power Button x1
TF Card Slot x1
USB 2.0 Port x2
DC 19V/1.9A x1
Digital MIC x1
Reset Hole x1
Mini Size but Powerful Mini PC
10th 10nm Gen Intel® Core™ i3
Intel® UHD Graphics
DDR4-3200MHz 16GB (Dual channel Onboard)
NVME SSD (PCle3.0 4X)
Intel® Optane™ Memory supported
Intel® WIFI6 AX200,BT 5.1 pre-install
Thunderbolt 3 5K / 60Hz
RJ45 Gigabit Ethernet×2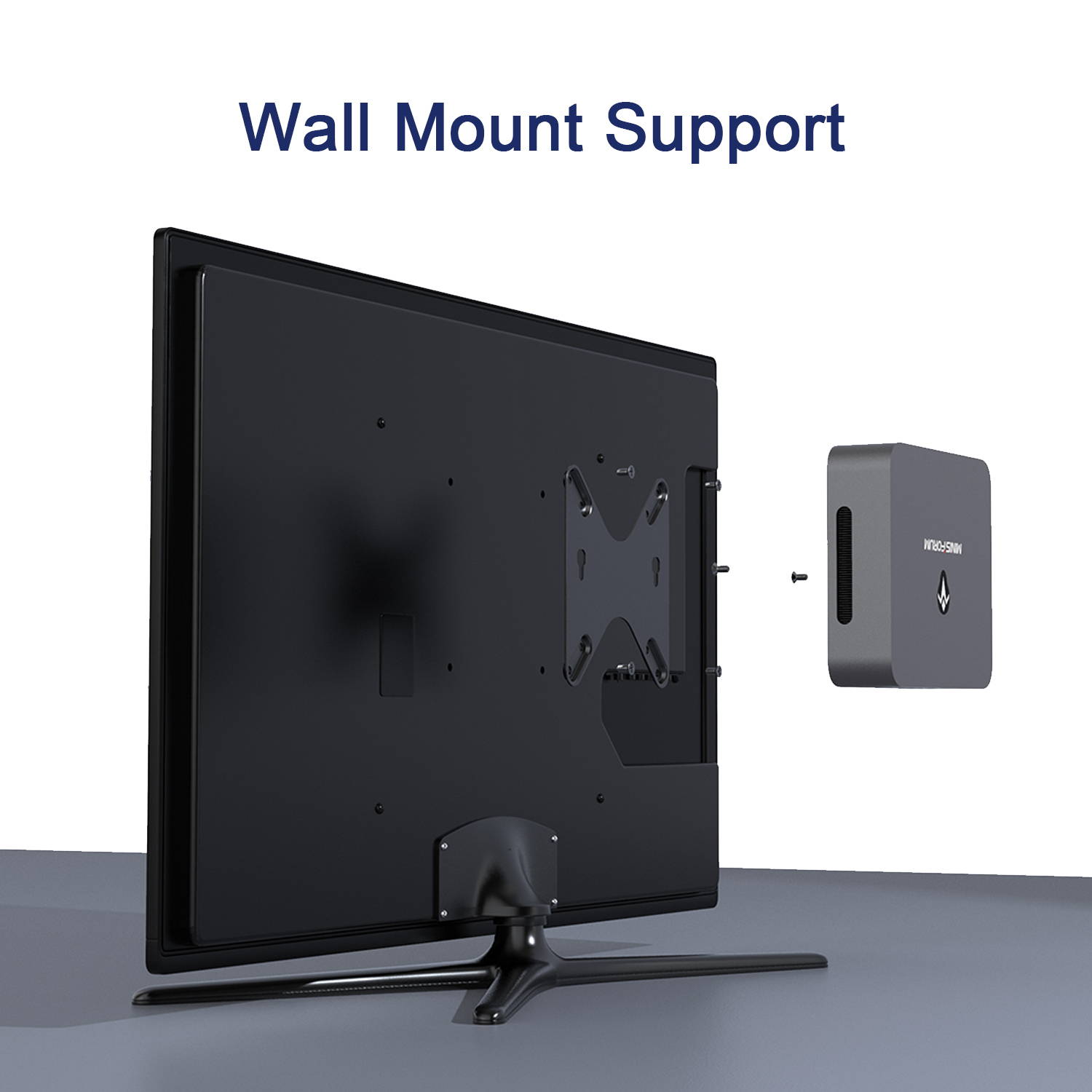 Wall Mount Support
The wall mount bracket is already included in the package. And it's easy to be fixed on the back of the monitor or TV. Saving your space and keep your desk tidy.
Intel® Core™ i3-1005G1 Processor, 2 Cores/4 Threads
(4M Cache, up to 3.40 GHz)
Intel® UHD Graphics(300MHz- 900MHz)
DDR4 3200MHz 16GB (On Board Dual channel)
Support Optane™ Memory
M.2 2280 256GB/512GB PCIe SSD
1×M.2 2280 SATA SSD Slot (up to 1TB , SATA 3.0 6.0Gb/s)
1×2.5 inch SATA HDD Slot (SATA 3.0 6.0Gb/s)
1×TF Card Slot (up to 128GB)
M.2 2230 WIFI support (Intel® WIFI6 AX200,BT 5.1 pre-install)
① HDMI 2.0(4K@60Hz)
② DisplayPort(5K@60Hz)
③ USB-C Port(Thunderbolt 3 , 5K@60Hz)
HDMI 2.0, DisplayPort, 3.5mm Audio Jack
RJ45 Gigabit Ethernet Port×2, USB 3.1 Gen2 Port×2, USB 2.0 Port×2, TF Card Slot×1, DC Jack×1, MIC×1, Digital MIC×1
2x RJ45 Gigabit Ethernet Port
2x USB 3.1 Port (Gen2, Blue)
1x Display Port (5K@60Hz)
1x HDMI 2.0 (4K@60Hz)
1x Microphone Jack
1x Kensington Lock
1x Power Button
1x TF Card Slot
2x USB 2.0 Port
1x DC 19V/1.9A
1x Digital MIC
1x Reset Hole
DC 19V(adapter included), or via USB-C Port
1 * Minisforum X35G Mini PC
1 * Power Adapter
1 * HDMI Cable
1 * USB Cable
1 * Mounting Bracket
1 * User Manual

Q1. When will X35G be shipped and how long to ship to me?
A: Hi, the shipping time for X35G will be the middle of December. And it usually takes 3~7 business day to deliver.
Q2. Where it shipped from?
A: Hi, as X35G is our new product, it will be shipped from China.
Q3. If it's Windows OS pre-installed?
A: Hi, yes, X35G is Windows 10 Pro pre-installed.
Q4. Will I need to pay custom duties or taxes on my orders?
A: Items shipped from all our warehouses are not subject to export taxes. However, if you are shipping an item from one county to another (shipped from China), you may be subject to pay local taxes and custom duties on said item. The customer is solely responsible for these expenses.
Q5. What do you mean about the three options for the configuration of X35G?
A: Hi, there are three types of X35G. DDR4 3200MHZ 16GB + PCIE3.0 256GB / DDR4 3200MHZ 16GB + PCIE3.0 512GB / LPDDR4 3200MHZ 16GB + Optane 16GB+WD 1T HDD, if you choose the 256 or 512GB SSD, a 16GB RAM and a 256GB or 512GB SSD will be shipped to you; or a 16GB RAM + Optane 16GB + 1TB HDD will be shipped to you.