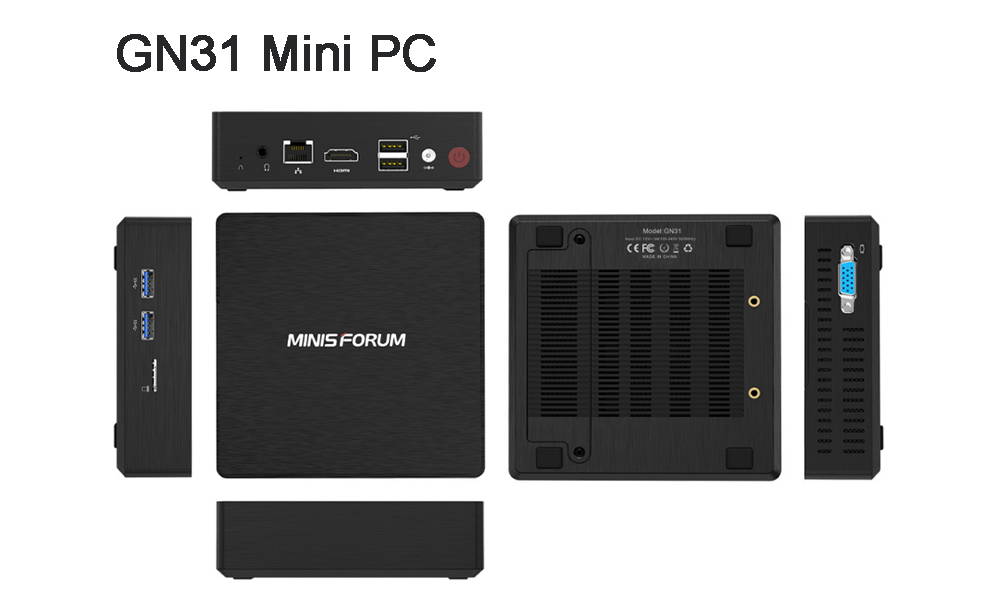 Features & Functions for GN31 Mini PC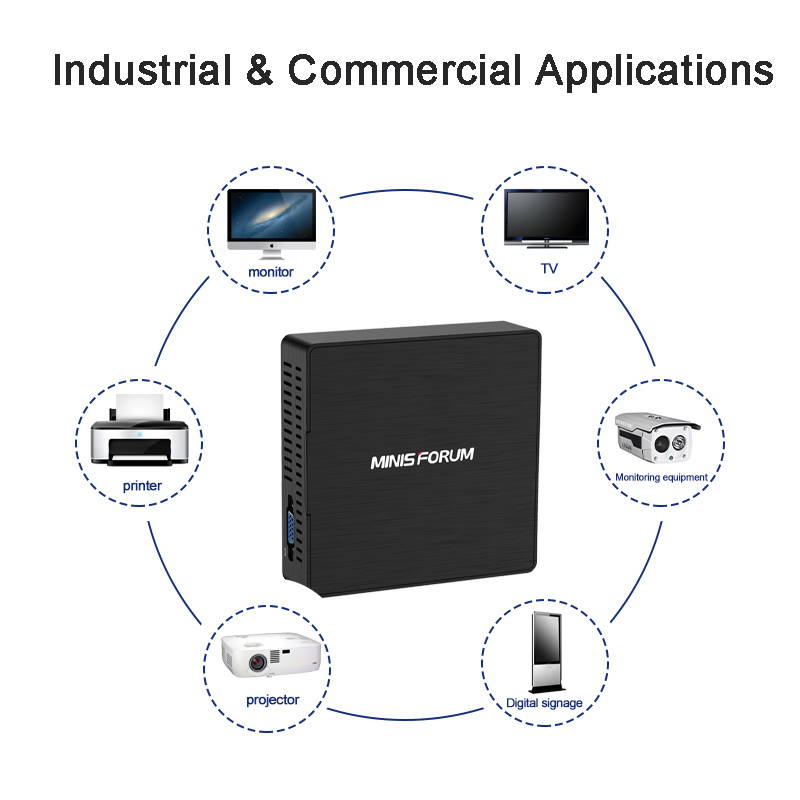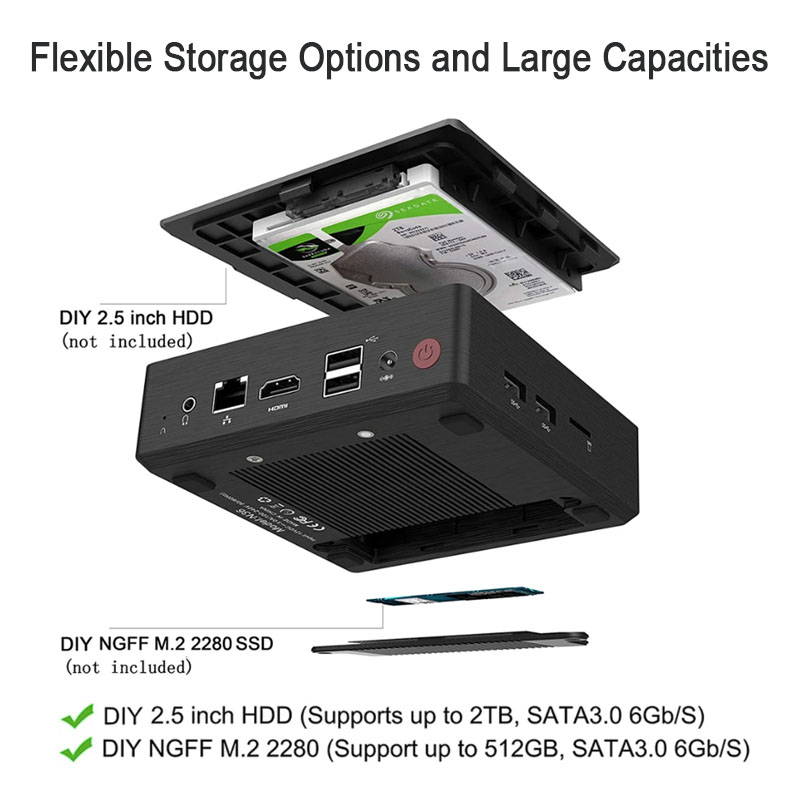 Industrial and Commercial Applications
GN31 Mini PC is a ideal device for multiple industrial and commercial applications. It can be used for TV, Prejector, Minitor, Monitor Equipment, Printer etc.
Fluent 4K Video Streaming
With HDMI & VGA, it's convenient and easy to connect with other device. Bring you big fun while playing games, watching movies or other entertainment with friends and family.
Large Capacity & Expanded Storage
Easy to upgrade to a higher storage and give you a larger capacities to ensure you have enough storage to use. Tips: 2.5 inch HDD and NGFF M.2 2280 in the picture are not included. It requires an additional purchase.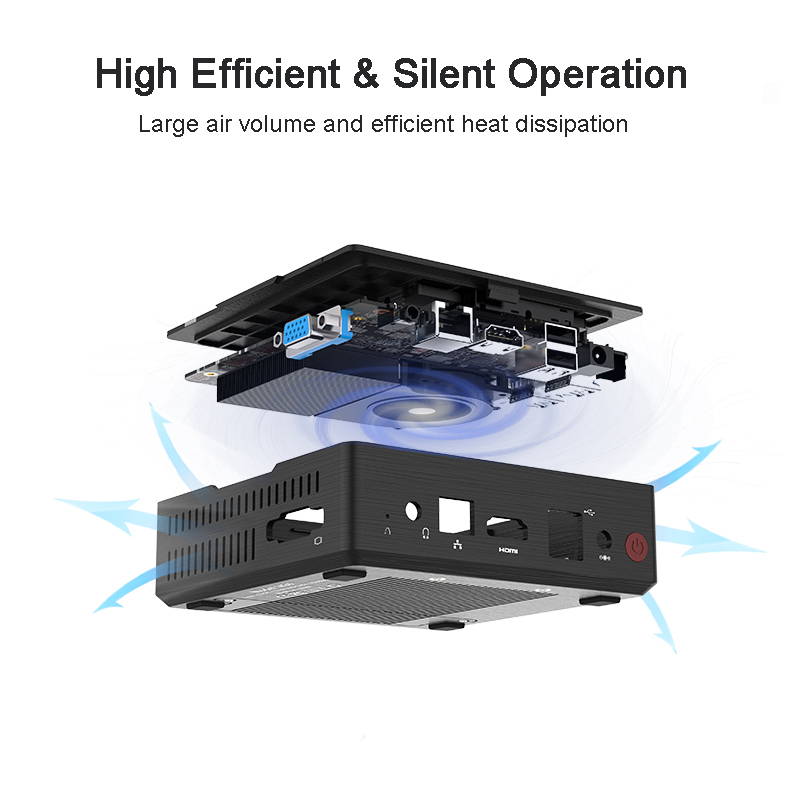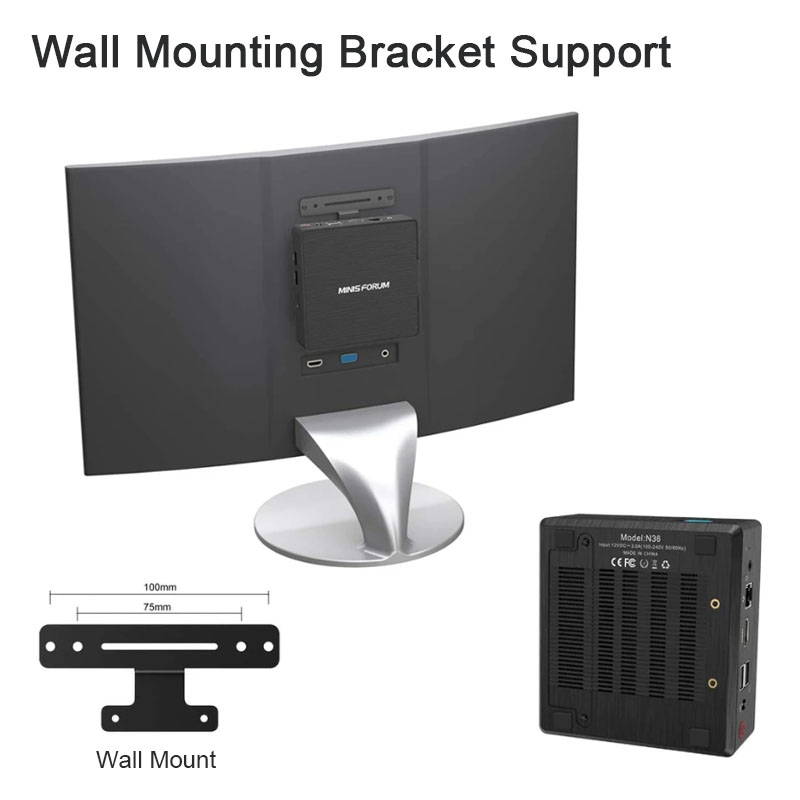 High Efficient & Silent Design
GN31 Mini PC is low comsumption, high efficiency and silent operation design. Large air volume and efficient heat dissipation bring you a great experience.
Ports & Buttons for GN31
1* Microphone & Headphone Jack
1* MicroSD Card Slot         1* HDMI Port
1* Gigabit Ethernet             1* VGA Port
1* DC 12V Input                 2* USB 3.0
1*Power Button                   1* Reset Button
2* USB 2.0
Wall-mounted Bracket Support
With the mount bracket available, the slim GN31 is perfect for use in any business environment, also it saves your rooms. Tips: the wall mount has already been included in the package.
PROCESSOR
Intel® Celeron® Processor J3160, 4 Cores/4 Threads
(2M Cache, up to 2.24 GHz)
GPU
Intel® HD Graphics 400
MEMORY
LPDDR3 4GB (OnBoard)
STORAGE
M.2 2280 128GB PCIe SSD
STORAGE EXPANSION
1×2.5 inch SATA HDD Slot (up to 1TB , SATA 3.0 6.0Gb/s)
1×TF Card Slot (up to 128GB)
WIRELESS CONNECTIVITY
IEEE 802.11ac Dual-Band Wi-Fi,BT4.2
ETHERNET
1000Mbps LAN
VIDEO OUTPUT
① HDMI Type Port , ② VGA Type Port
AUDIO OUTPUT
HDMI, 3.5mm Audio Jack
PERIPHERALS INTERFACE
RJ45 Gigabit Ethernet Port×1,USB 3.0 Port×2, USB 2.0 Port×2, TF Card Slot×1, DC Jack×1
POWER
DC 12V/3A (adapter included)
SYSTEM
Windows 10 Pro
LAUNCH DATE
April-19
PRODUCT DIMENSION
120×120×36mm
PACKAGE DIMENSION
205×130×60mm
NET WEIGHT
0.26/KGS
GROSS WEIGHT
0.69/KGS
【Powerful J3160 Processor】: powered by Intel Celeron J3160 HD Graphics with Windows 10 Pro pre-installed, offering enterprise-class management and security that is suitable for multiple applications.

【Faster Speed Better Cooling System】: equipped with 128GB PCI-E M.2 NVMe 2280 SSD, 5.6 times faster than eMMC. The TDP 6W restriction has been unlocked and the TDP threshold has been increased to 9W, in this case, the CPU could load 100% for a long time without reducing the frequency.

【Extensible Memory】: 4 USB Ports available, 1 TF card slot, built-in SATA 3.0 connector(extensible 2.5-inch HDD) and NVMe 2280 SSD (up to 1TB). Windows can be upgraded without problems, and it also can storage various movies, TV shows so that you could enjoy your entertainment time whenever you are free.

【Dual Monitor Supportable】: HDMI and VGA ports, two monitors can be operated at the same time, increase working efficiency and more fun for amusement.
This GN31 Mini PC is a compact PC, which offers enterprise-class management and security that is suitable for multiple applications. The slim design also features a detachable extension bay for enlarging storage–install SSD and HDD, which offers enhanced computing power and full connectivity.
Featured with sufficient I/O interfaces, it has high speed data access, plenty of storage, stable low-power processor with powerful Linux system, making GN31 a perfect product for industral automatic control
The GN31 Mini PC aims at delivering the maximum product performance without any performance losses.
Package Contents:
1x GN31 Mini PC
1x Power Adapter
1* Mini DP Cable
1x HDMI Cable
1x Mounting Bracket
1* User Manual
Ports & Buttons:
1*Microphone & Headphone Jack
1*MicroSD Card Slot
1*Gigabit Ethernet
1*DC 12V Input
1*Power Button
1*Reset Button
1*HDMI Port
1*VGA Port
2*USB 2.0
2*USB 3.0
Q1: Two questions. How do I get into BIOS and how I put in a 2,5 HDD?
A: First question press DEL key for CMOS and F11 for booting media selection; Second in the upper case space one extra 2.5" sata socket connector exists.
Q2: If I plan to run linux on this, is the windows 10 license transferable to another PC?
A: Sorry that the Windows license can't be transferred to another PC, thanks.
Q3: POE- can this unit be powered by poe?
A: Sorry that this item doesn't support powered by POE,thanks.
Q4: For the model gn31 mini pc intel celeron j3160 processor. is the 4gb of lpddr3 upgradabe? if so, how many slots are available?
A: Sorry that the RAM of the GN31 Mini PC can't be upgraded, but you could expand the storage by installing SSD and HDD, thanks.
Q5: Can the tdp unlocker be turned off to help reduce the heat from the cpu?
A: It needs to update the BIOS. If you need it, you could contact us by minisforumtech@gmail.com, but the performance will be reduced once the tdp unlocker be turned off.