【Great Processor and OS】Apolo Lake J3455 and Win 10 Pro pre-installed, offering excellent experience for the Internet and Office applications, Media player, Monitor, Projector and TV. An ideal mini pc for users to play games, utilize apps, stream video contents, etc.
【Large Capacity】8GB RAM+ 64GB eMMC+ 128GB SD extended capacity(SD card not included), DIY M.2 SSD(Max support 2TB), Gigabit Ethernet LAN 1000M, Dual Band WiFi, Dual Screen support to ensure smooth navigation, responsive work processes and comfortable handling of apps and files.
【Dual Monitor Support】Having both HDMI and VGA ports, two monitors can be operated at the same time, boost working efficiency and more fun for amusement.
【Mini Size for Space-saving】Palm-size design with quiet fan. Also, it could be very space-saving with mounting bracket included, perfect for use in any business environment.
    Featured with sufficient I/O interfaces, the GN34 Mini PC has high-speed data access, plenty of storage, stable low-power processor with powerful Linux system, making it a perfect product for industrial automatic control With the mount bracket available, the slim GN34 is perfect for use in any business environment. The GN34 Mini computer aims at delivering maximum product performance without any performance losses.
Features & Functions for GN34 Mini PC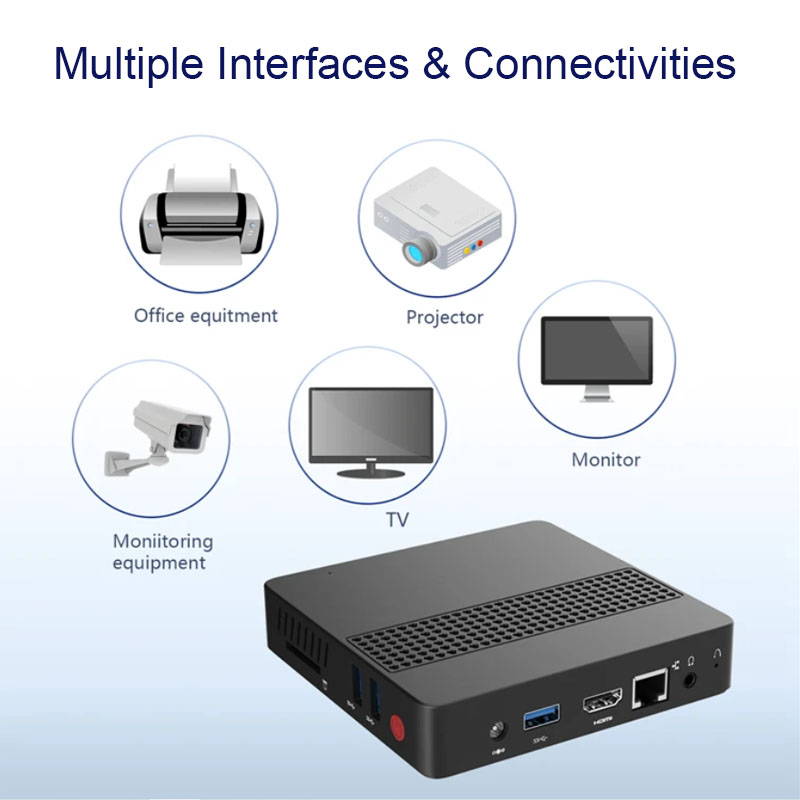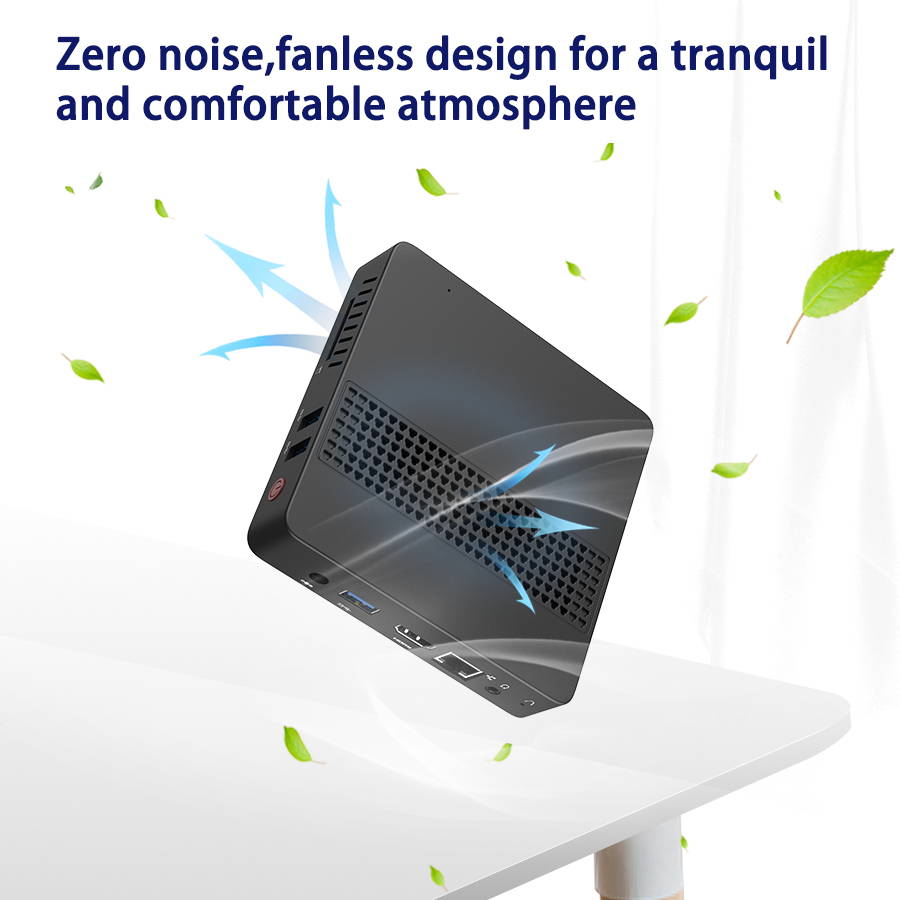 Multiple Application Options
GN34 Mini PC is a ideal device for multiple industrial and commercial applications. It can be used for TV, Prejector, Minitor, Monitor Equipment, Printer etc.
HDMI & VGA Support Dual Displays
GN34 Mini PC supports two band -- 2.4G+5G dual-band WiFi and built-in Gigabit Ethernet, making transfer and download more faster.
High Efficient & Silent Design
GN34 Mini PC is low comsumption, high efficiency and silent operation design. Large air volume and efficient heat dissipation bring you a great experience.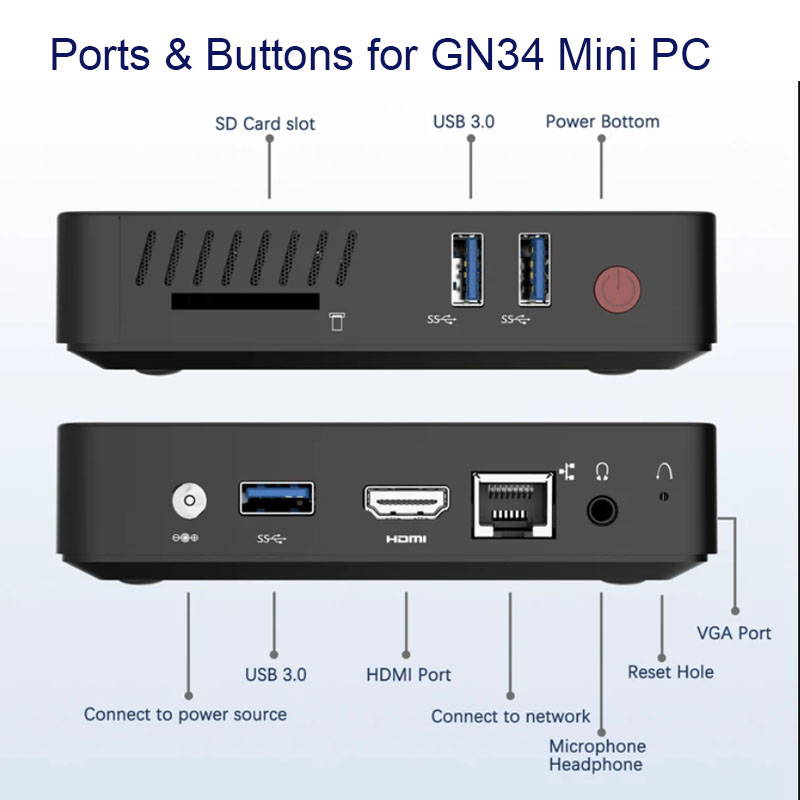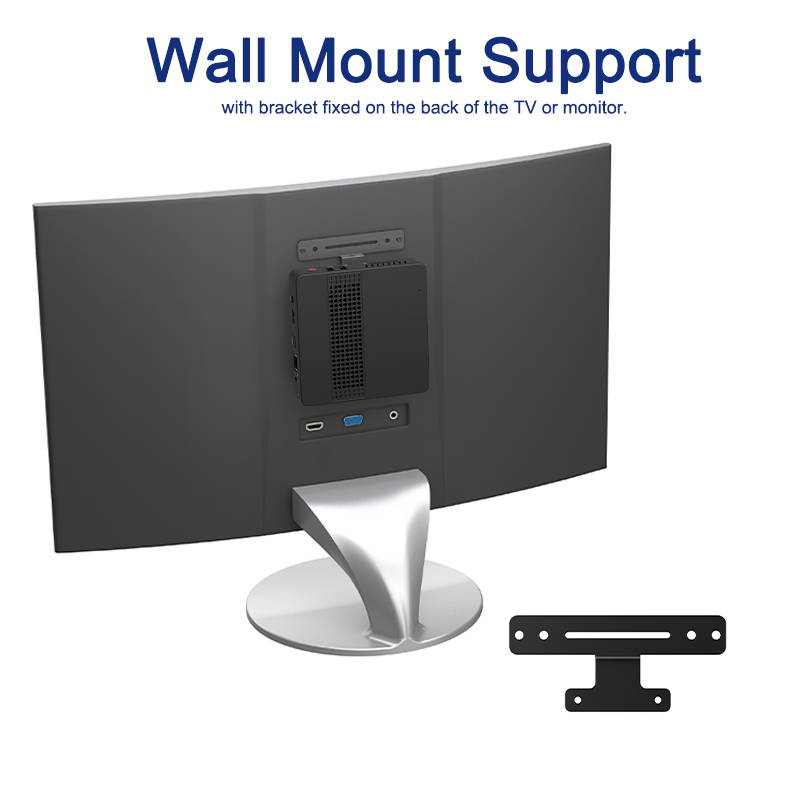 Ports & Buttons for GN34
1* Microphone & Headphone Jack

1*MicroSD Card Slot   1*Gigabit Ethernet

1*DC 12V Input           1*Power Button

1*Reset Hole               1*HDMI Port

1*VGA Port       1*USB 2.0      

2*USB 3.0
Small But Powerful DeskMini PC
GN34 Mini PC is small but powerful -- easy to carry with, easy to pocket. Make you work or entertainment everywhere you want.
Wall-mounted Bracket Support
With the mount bracket available, GN34 is perfect for use in any business environment, also it saves your rooms. Tips: the wall mount has already been included in the package.
Intel® Celeron® Processor J3455 , 4 Cores/4 Threads
(2M Cache, up to 2.3 GHz)
1×M.2 2242 SATA SSD Slot (up to 1TB , SATA 3.0 6.0Gb/s)
1×SD Card Slot (up to 128GB)
IEEE 802.11ac Dual-Band Wi-Fi,BT4.2
① HDMI Type Port
② VGA Type Port
RJ45 Gigabit Ethernet Port×1,USB 3.0 Port×3 , SD Card Slot×1 , DC Jack×1
1 * Microphone & Headphone Jack
1 * MicroSD Card Slot
1 * Gigabit Ethernet
1 * DC 12V Input
1 * Power Button
1 * Reset Button
1 * HDMI Port
1 * VGA Port
1 * USB 2.0
2 * USB 3.0
DC 12V/2A (adapter included)
1 * GN34 Mini PC
1 * Power Adapter
1 * HDMI Cable
1 * VESA Mount
1 * VESA Mount Screw Set
1 * User Manual

Q1: Can you upgrade the ram in the 6gb version?
A: Sorry that this mini pc can not upgrade the ram in the 6gb version. Hope it helps.
Q2: Will this auto power on after power failure?
A: If you have this need, you can achieve it by setting up the system.
Q3: Is it ok to play high bitrate 4k (25+ gb files) movies?
A: This Mini PC supports 4K HD movies (even 25GB files).
Q4: How do you install the m.2 ngff 2242 ssd card thanks
A: The manual shows you how to do it. Basically you peel off the rubber feet and use a small screwdriver to remove the 4 screws. The motherboard is one piece, but the M.2 slot is on the bottom, meaning you have to pull out the entire motherboard to access it. It's stuck in there pretty good so be careful removing it. You'll also need a very small screwdriver to access the M.2 pin, so make sure you have the right hardware first. Then you can simply slide in the SSD drive and reassemble everything. If you've ever built a computer, this is fairly easy to do, but if you've never built a PC it may be a little scary to upgrade. Takes about 20 minutes.
Q5: Can I download dvds to this computer?
A: You have to connect an external hard drive device to this mini computer to download anything because it barely has enough internal memory to download Windows 10 updates.
Q6: Can you use a remote control?
A: Yes, this GN34 mini pc can be used a remote control.
Q7: Will this accept a msata ssd?
A: This Mini PC solo accept SD Card (Support 128GB) and M.2 NGFF2242 SSD (up to1TB).