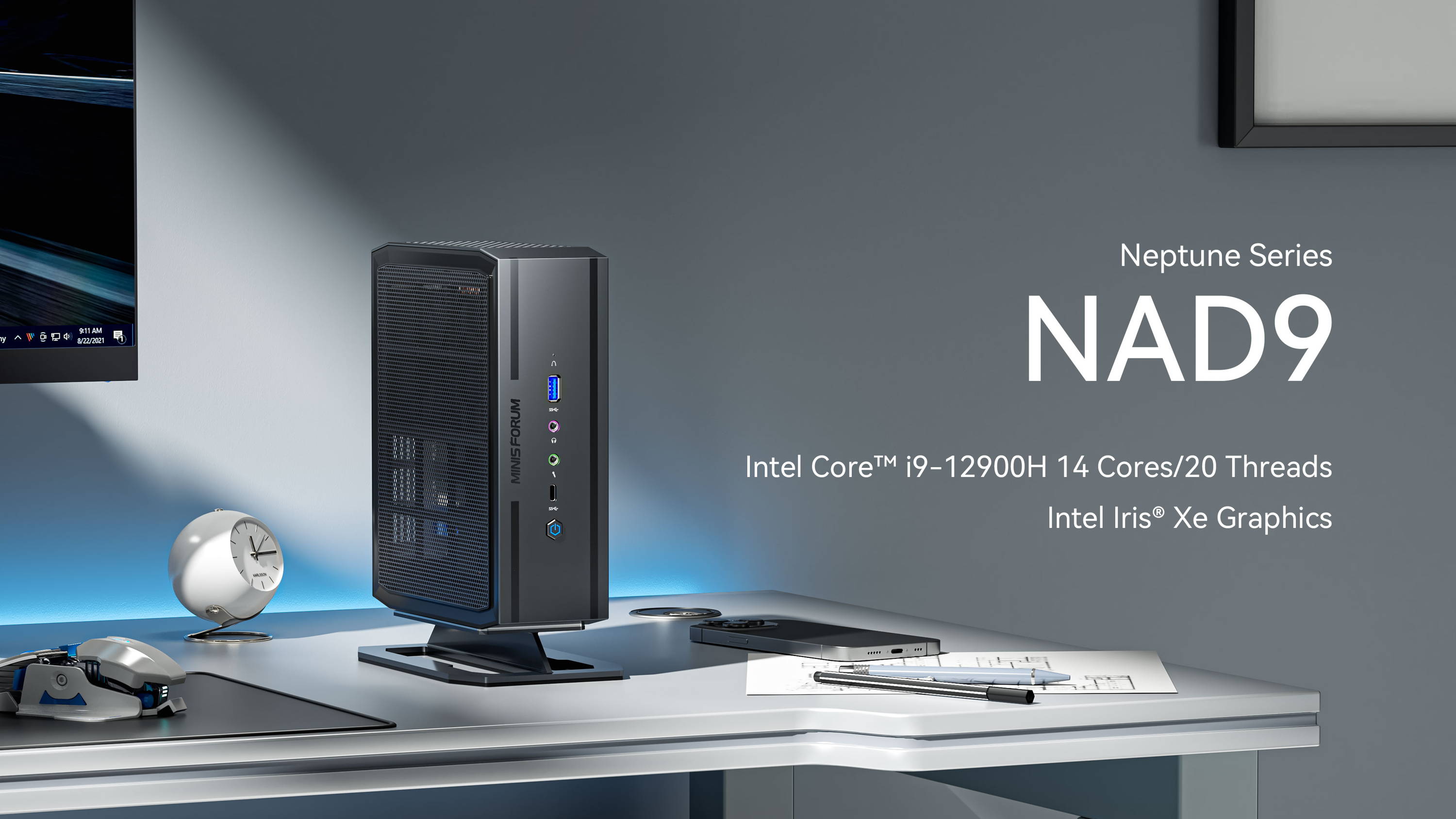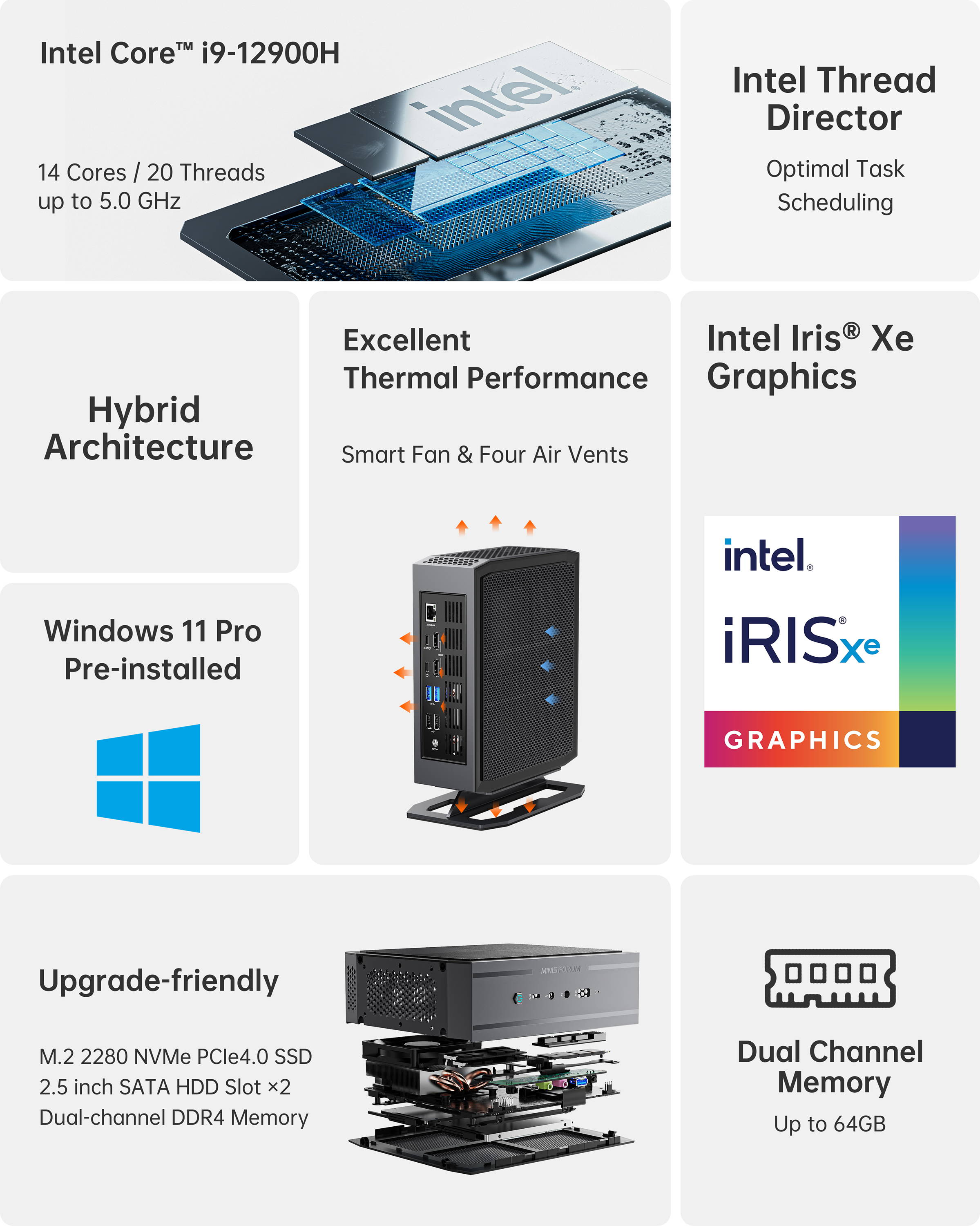 Beast CPU Based on Hybrid Architecture
Intel Core™ i9-12900H integrates a staggering combination of 14 cores and 12 threads, with a maximum frequency of 5.0GHz. 6 Performance-cores and 8 Efficient-cores adapt to the way you work and play. This CPU delivers a smoother and snappier computing experience.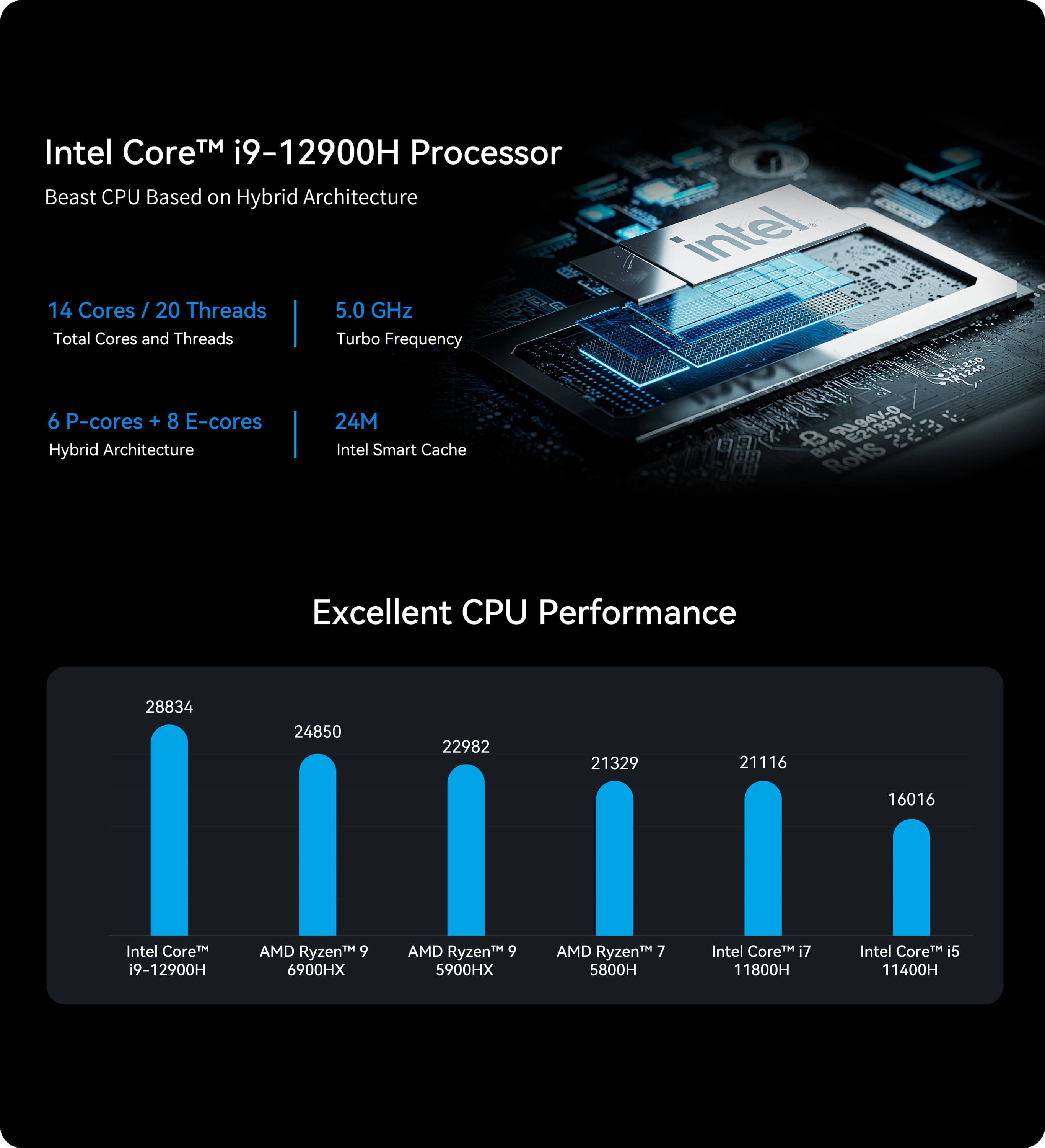 Productivity Boost
NAD9 is optimized to handle resource-intensive software and keep background applications running smoothly. The integrated Intel Iris® Xe Graphics guarantees NAD9 performance in smooth 1080P gaming and decent content creation. On the pre-installed Windows 11 Pro, you can edit audio/video, open image-heavy pages, and move big files from portable drives to NAD9 at the same time without lagging or freezing.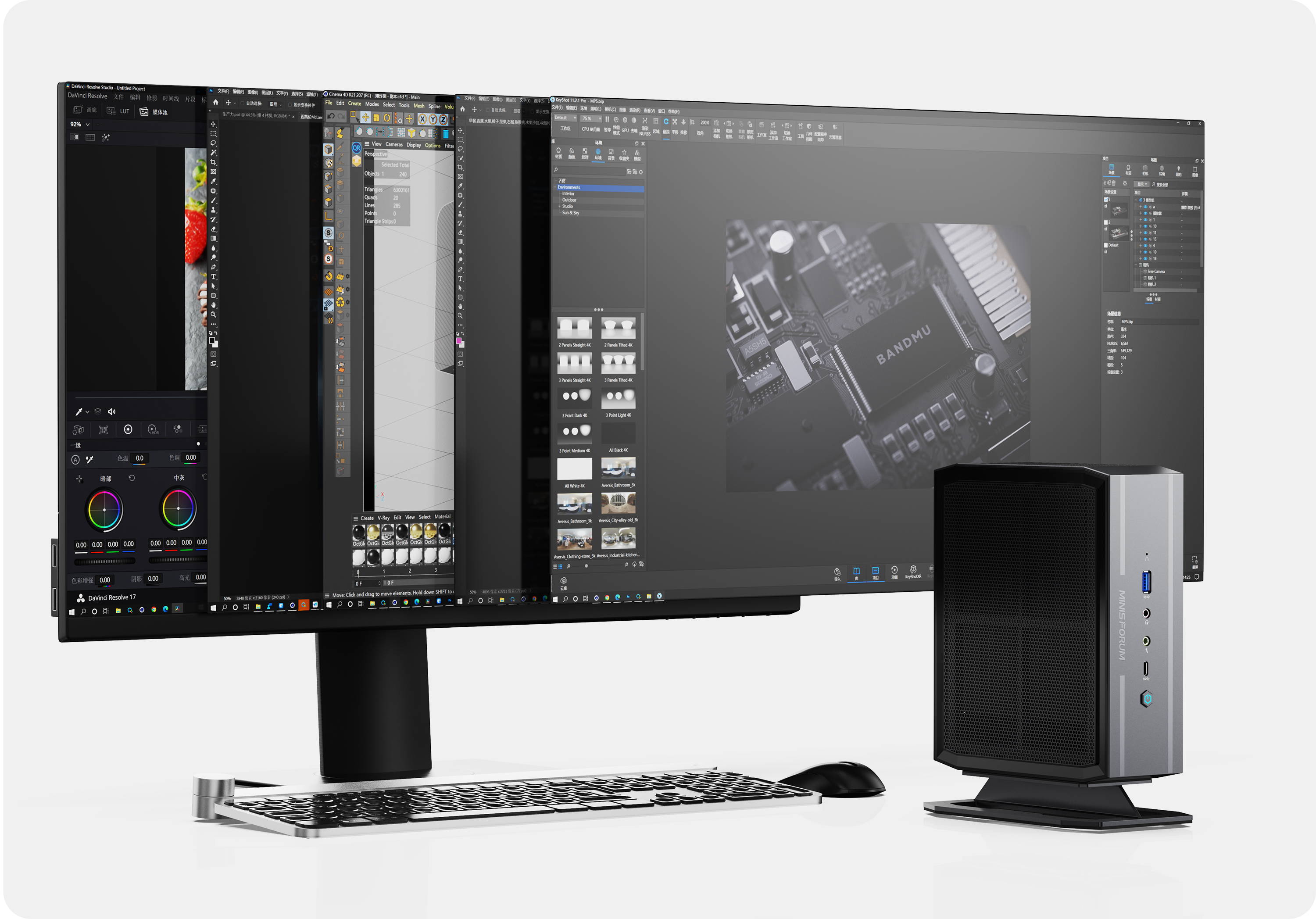 Cinematic Quad 4K Display
NAD9 has two USB-C ports and two HDMI ports for a quad-display multitasking solution. These ports provide glorious details and eye-pleasing clarity for games, video playback and content creation in UHD 4K@60Hz resolution.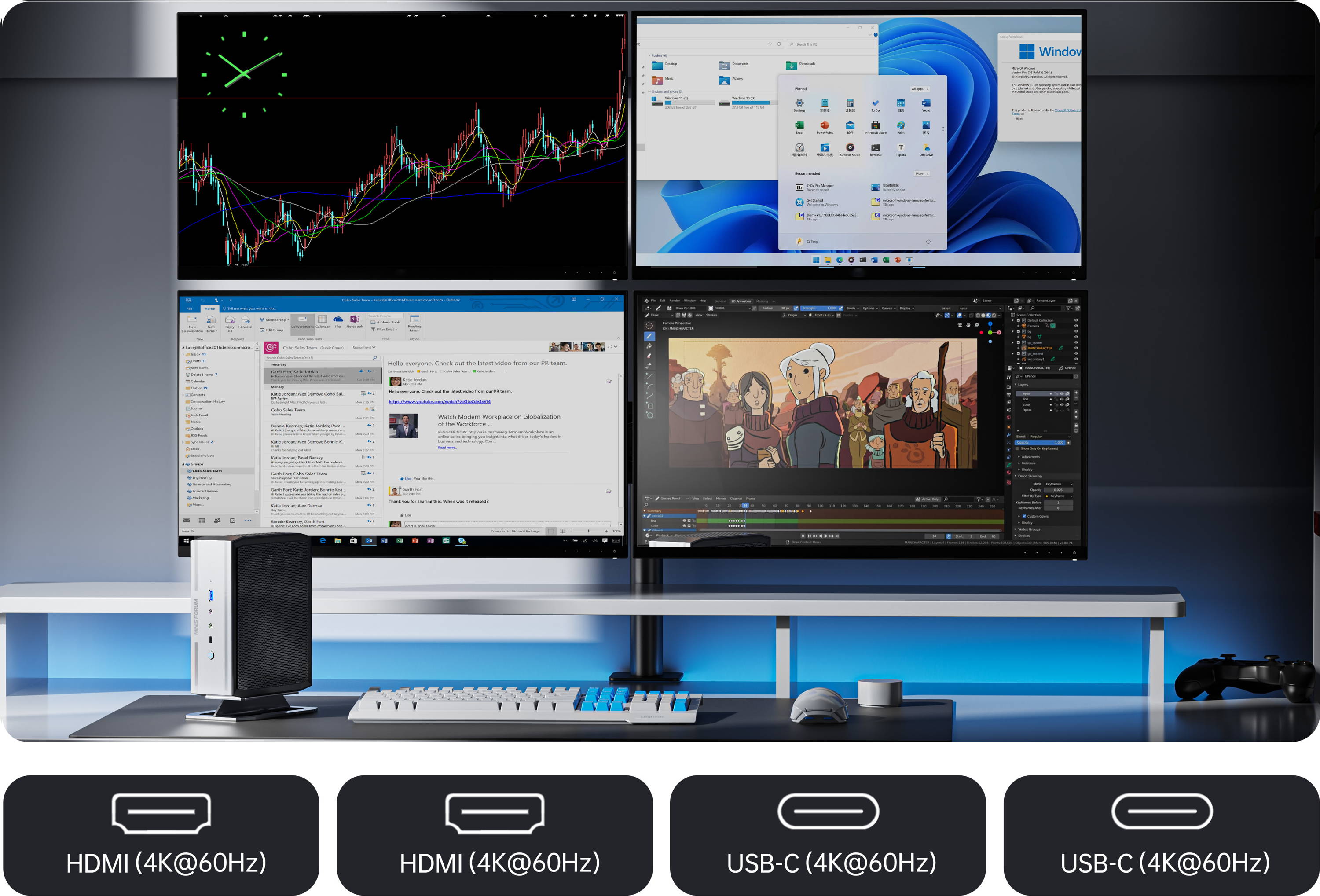 UPGRADE-FRIENDLY
Unleash the Potential
NAD9 adopts DDR4 dual-channel memory, M.2 2280 PCIe 4.0 SSD, and two 2.5-inch SATA 3.0 HDDs. Thanks to NAD9's upgrade-friendly design, it is easy to access to the motherboard and upgrade the firmware.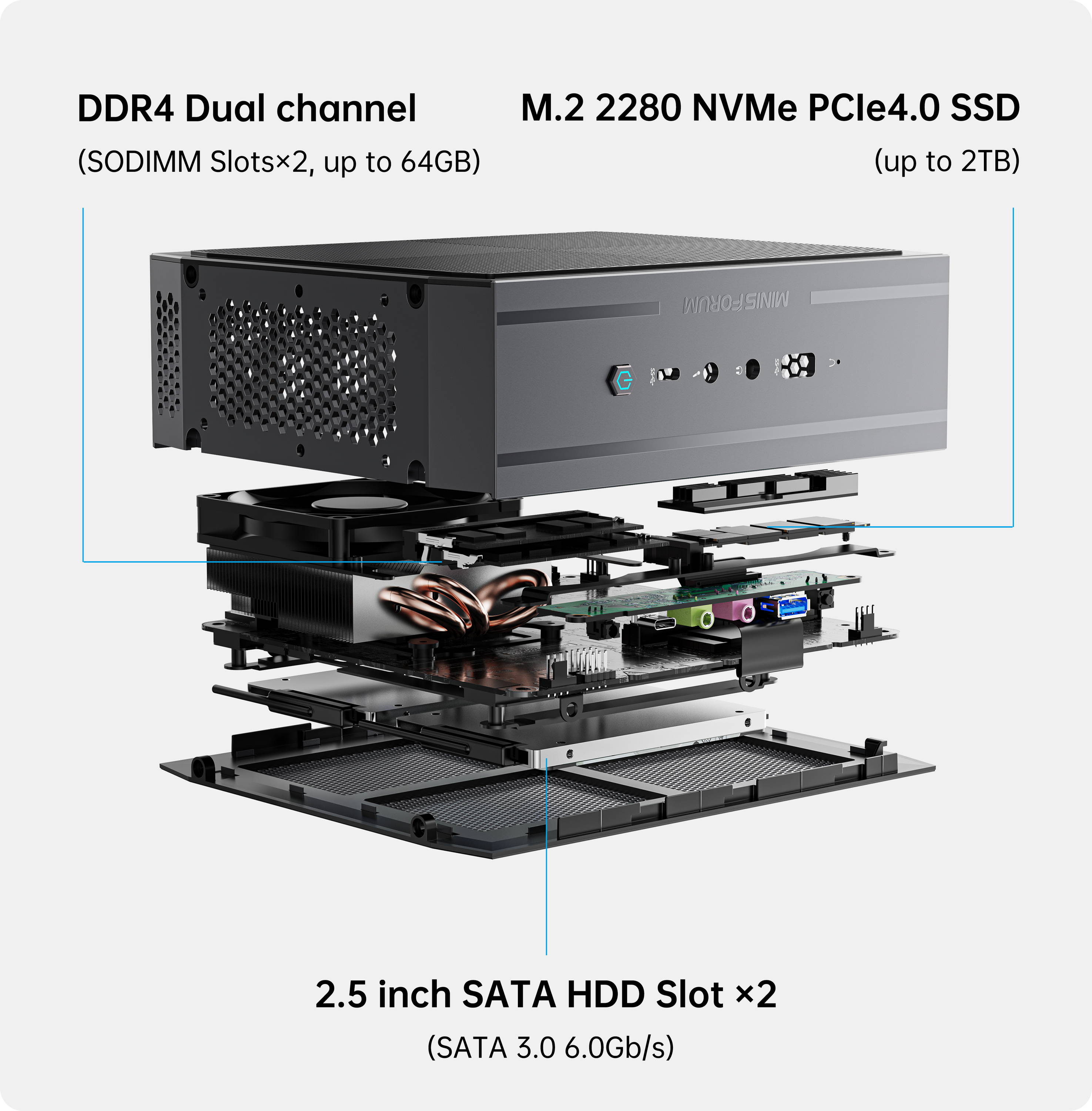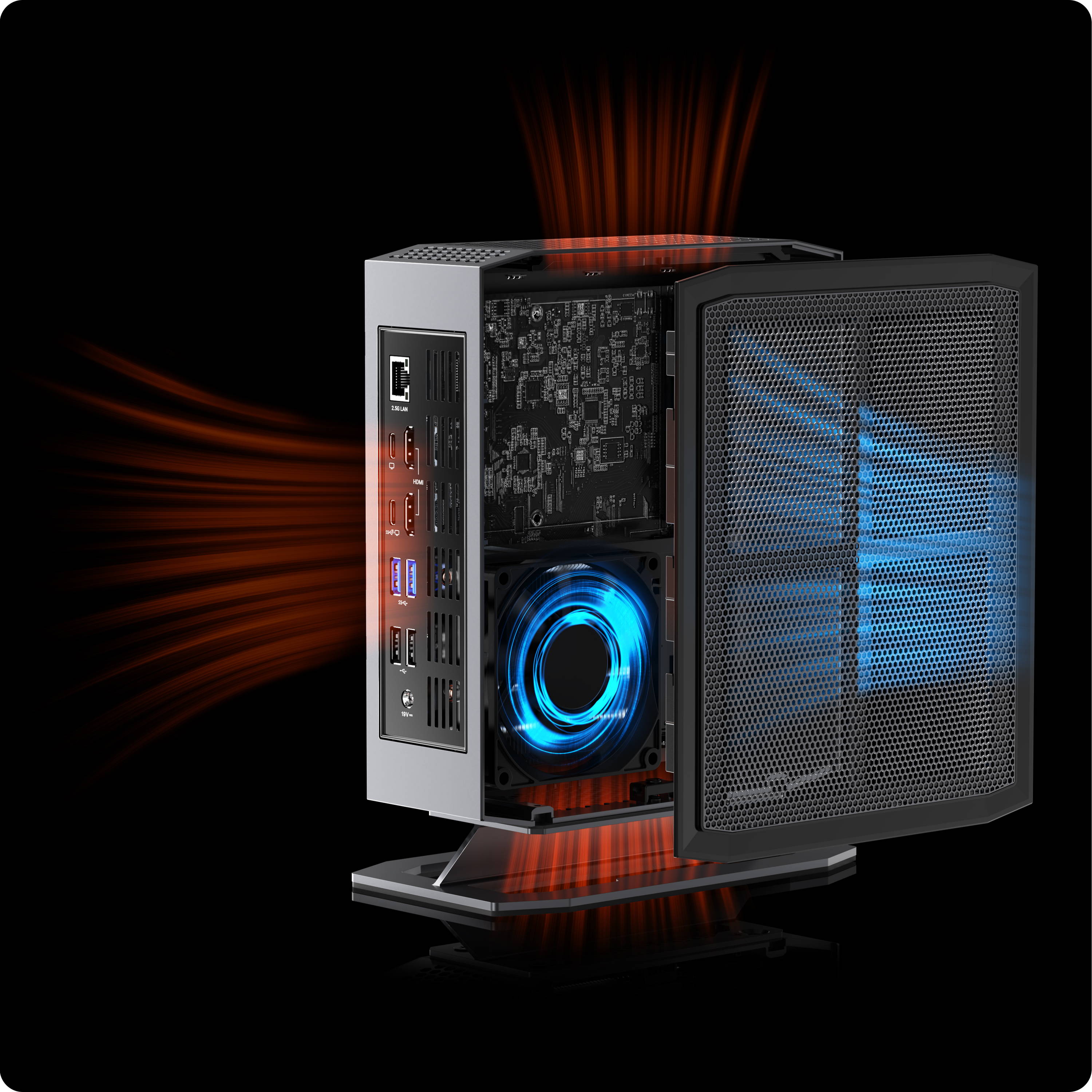 Large Mesh Structure
NAD9's smart fan inhales cooler air through the large mesh panel into the case, and blows out hotter air through three air vents to lower the ambient temperature.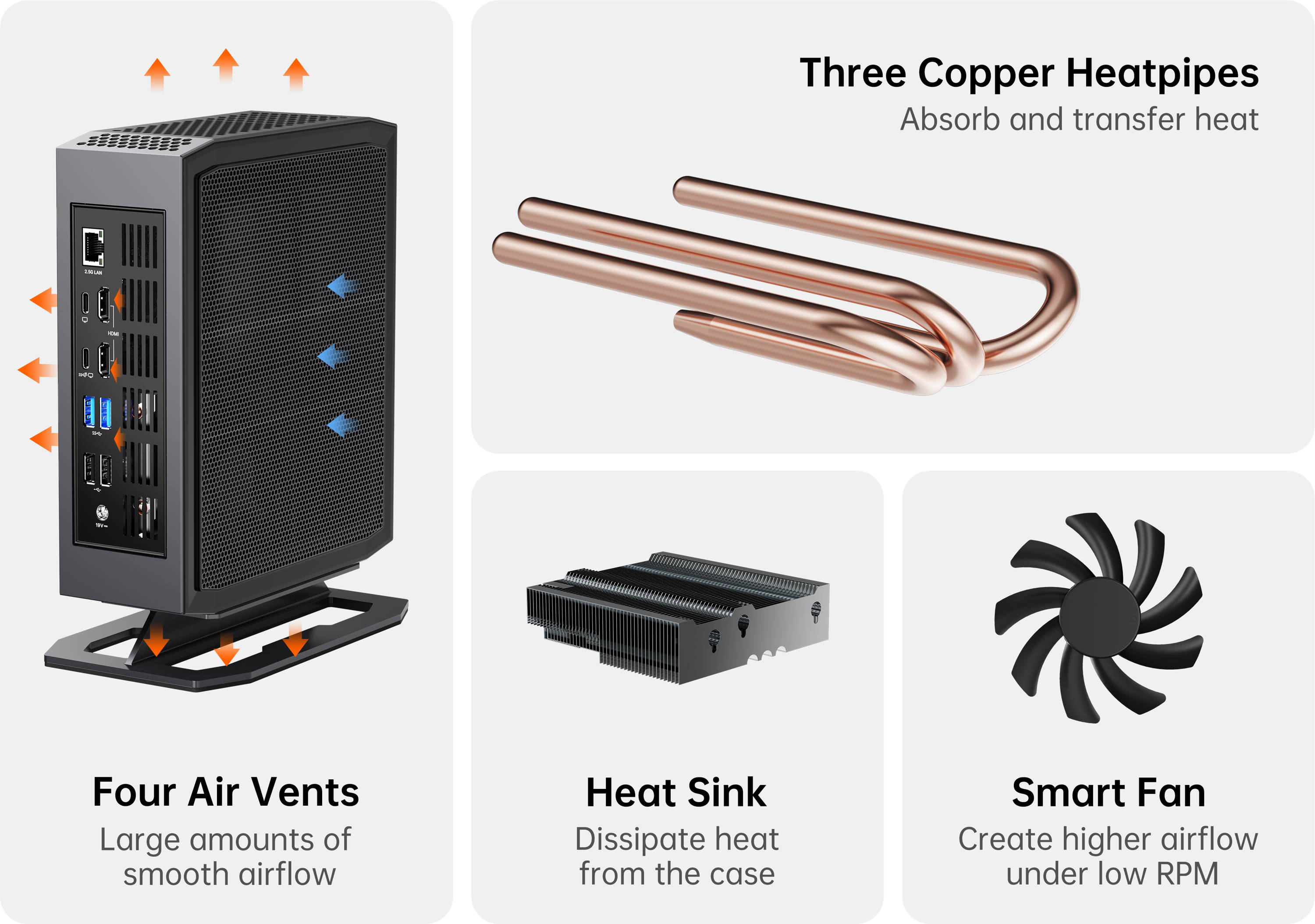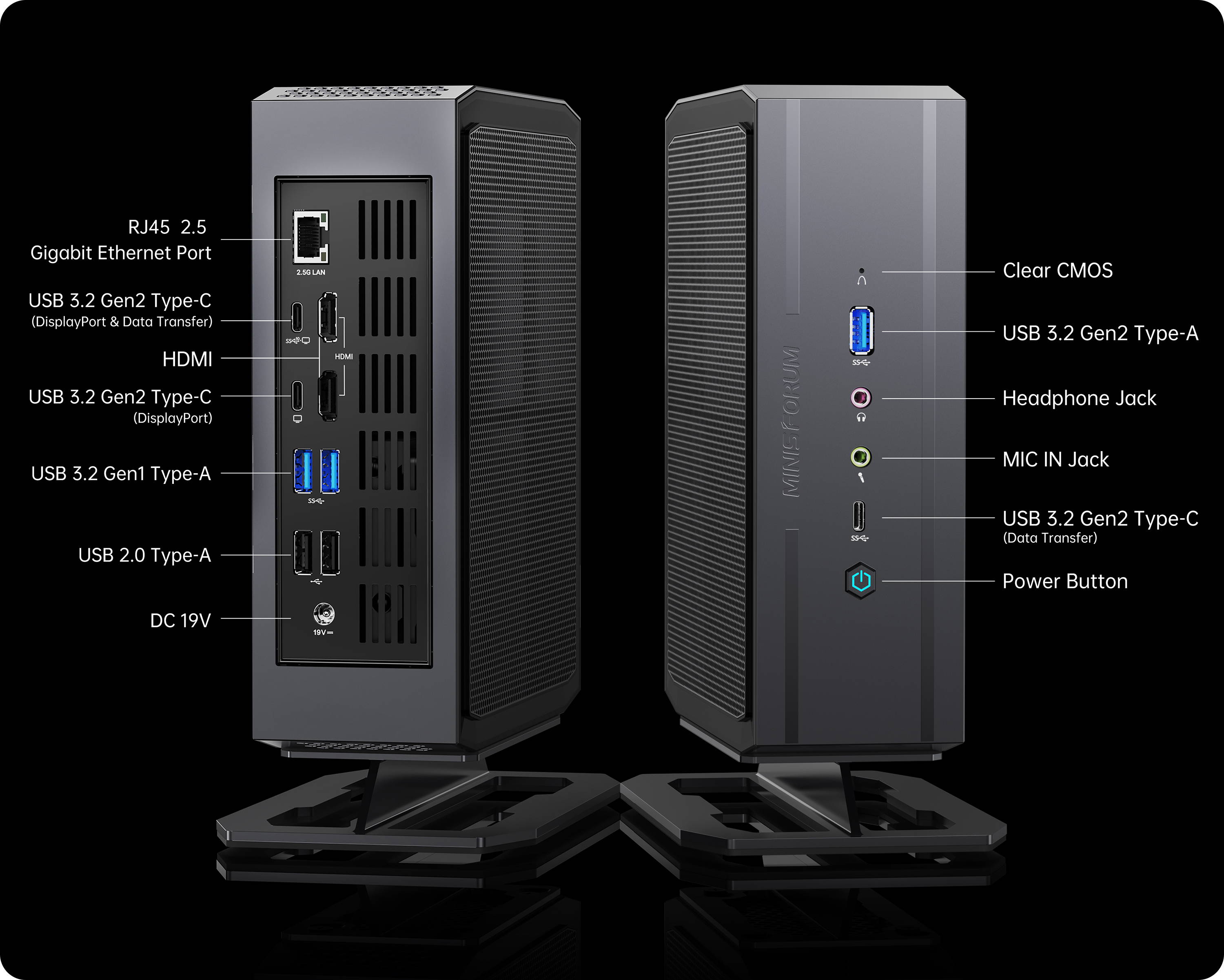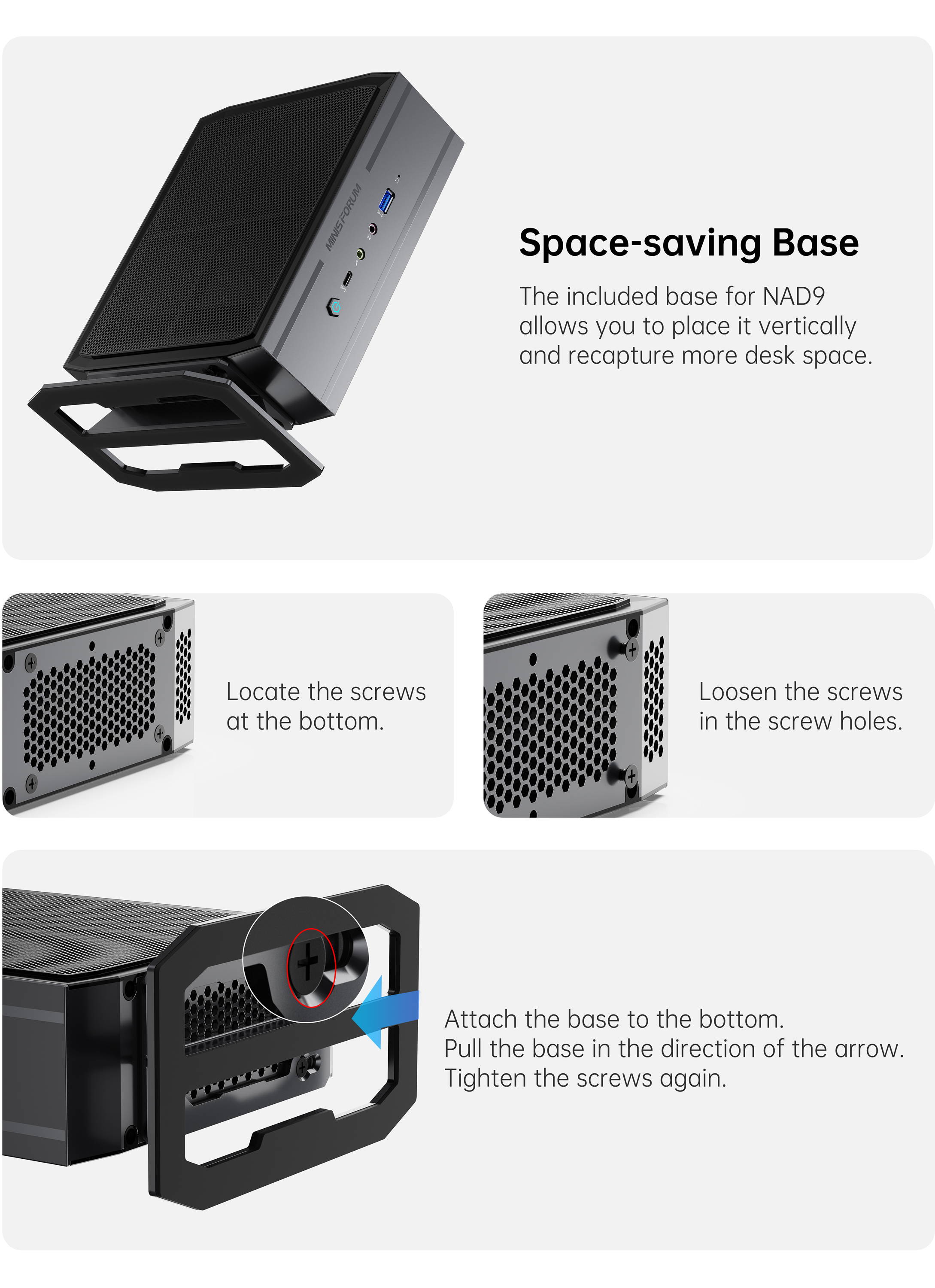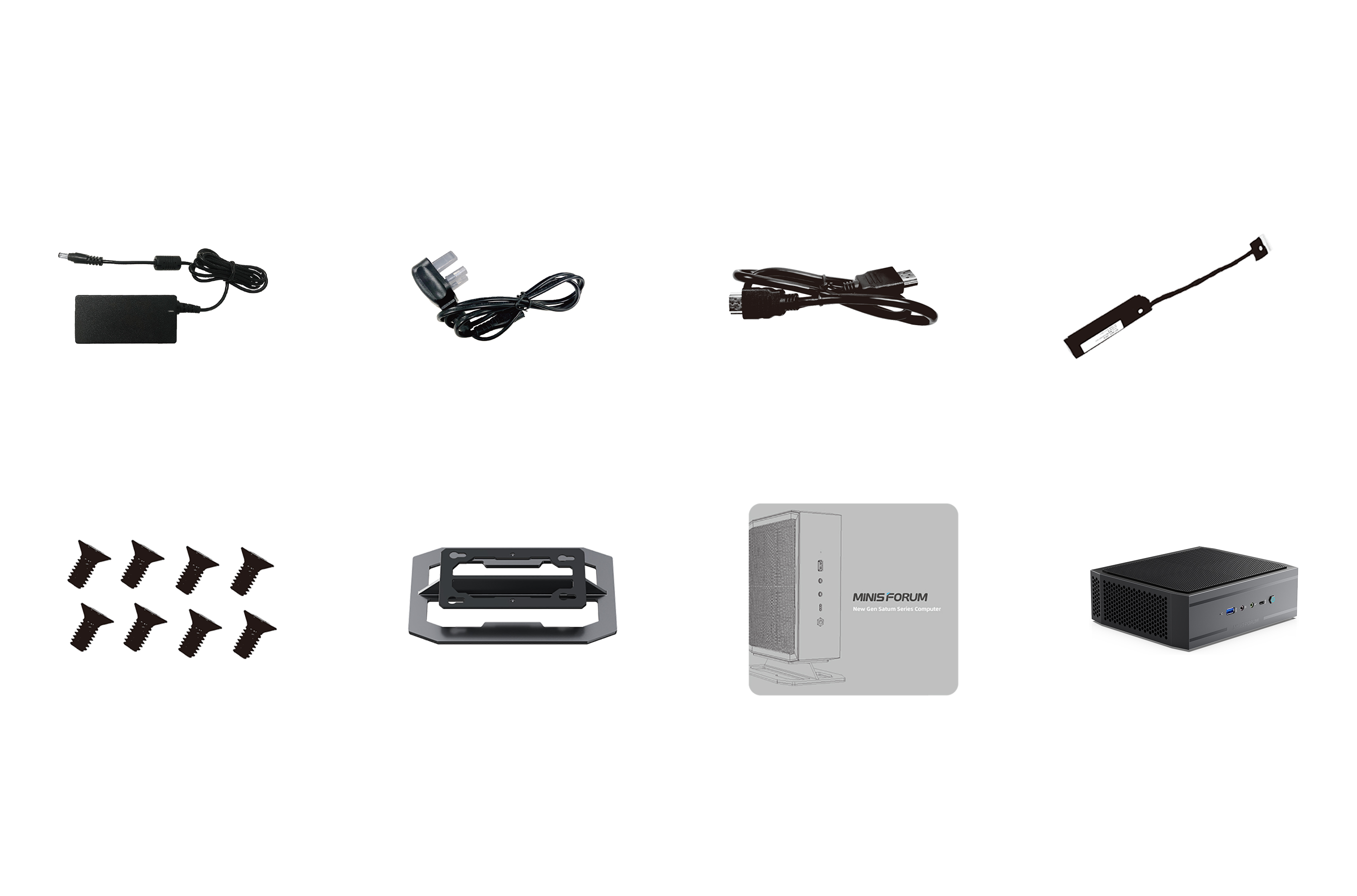 Intel® Core™ i9-12900H Processor, 14 Cores/20 Threads
(24M Cache, up to 5.0 GHz)
Intel® Iris® Xe Graphics eligible (Graphics Frequency up to1.45 GHz)
DDR4 Dual channel (SODIMM Slots×2, up to 64GB)
M.2 2280 NVMe PCIe4.0 SSD(up to 2TB)
2.5 inch SATA HDD Slot ×2 (SATA 3.0 6.0Gb/s)
M.2 2230 WIFI Support (Wi-Fi,BlueTooth)
HDMI (4K@60Hz) ×2
USB-C(4K@60Hz) ×2
HDMI ×2
Headphone Jack ×1
RJ45 2.5 Gigabit Ethernet Port ×1
USB3.2 Gen2 Type-C ×1(Data Transfer, Front)
USB3.2 Gen2 Type-C ×1(Alt DP )
USB3.2 Gen2 Type-C ×1(Alt DP and Data Transfer)
USB3.2 Gen2 Type-A ×1(Front)
USB3.2 Gen1 Type-A ×2(Back)
USB2.0 Type-A ×2
HDMI ×2
Clear CMOS ×1
MIC IN Jack ×1
Headphone Jack ×1
DC 19V (Adapter Included)
1. Official Support Page
https://www.minisforum.com/front/support/69/NAD9
2. Brand of SSD and RAM in the NAD9
We purchase essential hardware from different brands based on the same technical specifications, including SSDs, Wi-Fi cards, RAM, HDDs, power supplies, etc. Due to the limited resources and brands of RAM and SSD, we choose Samsung, Kingston, Crucial, Adata, Phison, etc. as our RAM and SSD suppliers.
Each piece of hardware has passed a strict quality inspection and met the factory's standards before it is delivered to Minisforum. In addition, there is no difference in the warranty policies of these hardware suppliers.
The hardware brands may vary from batch to batch. Please rest assured that they all meet Minisforum's standards and are all covered by the warranty.
3. Do you have a warranty on the NAD9?
All products purchased on Minisforum's official store are covered by our 2-year warranty. Learn more about our warranty policy.
4. Where do you ship to?
We offer free shipping for the majority of the world.
Available countries and regions:
United States, Saudi Arabia, Canada, Singapore, Cambodia, Thailand, Australia, Nepal, Pakistan, Brunei, Sri Lanka, Japan, Jordan, Myanmar, Laos, Philippines, Mongolia, United Arab Emirates, South Korea, Malaysia, New Zealand, Panama, Indonesia, Mexico, Hong Kong, Macau, Taiwan.
Learn more about our shipping policy.
For customers in Europe, please place your order in our branch stores https://store.minisforum.de/ and https://store.minisforum.uk/.
5. What's the maximum resolution? How many monitors can be connected at the same time?
Up to four monitors can be connected at the same time with a maximum resolution of 4K@60Hz.
6. Can I use the USB-C port to power up the NAD9?
The USB-C port can not be used as a power supply port. Please use the DC power supply.
7. What's the spec of Wi-Fi and Bluetooth of NAD9?
Wi-Fi 6E
Bluetooth 5.2
8. Does it support eGPU?
The NAD9 does not support eGPU.
9. Does it support MXM graphics?
The MXM graphics slot in NAD9 is void, and does not support MXM graphics.
10. Does the NAD9 have pre-installed Windows?
Except for the barebones version, all versions come with Windows 11 Pro pre-installed. The barebones version does not include RAM and SSD; therefore, it does not have pre-installed Windows 11 Pro.
11. How do I install Windows OS for the barebones version?
Please click the link to our support page below to download Windows 11.
Note: Minisforum does not offer Windows OS license keys for the barebones version.
https://www.minisforum.com/front/support