【Ultra 4K@60Hz Display】Equipped with Intel Celeron Gemini Lake N4020 Processor(up to 2.6GHz/2.8GHz), with Intel UHD Graphics 600, the resolution up to 4096*2160@60Hz and able to play 4K video smoothly.
【Multiple Intelligent Features】supports S5 RTC Wake Settings, Auto Power On, Wake On Lan, PXE Boot etc. Just needs you to set it on the BIOS whenever you want, it will serve you as your request, which is really intelligent.
【Fanless & Silent Design】adopting energy-efficient components and cooling elements, no noise during operating. It offers excellent performance for Internet and Office applications, Media Player, Monitor, Projector and TV.
【Expandable SSD】Powered by the DDR4 4GB RAM + 64GB eMMC, extended by DIY SSD + 128GB SD card. Ensure smooth navigation, responsive work processes and comfortable handling of applications and files.
Features & Functions for N40 Mini PC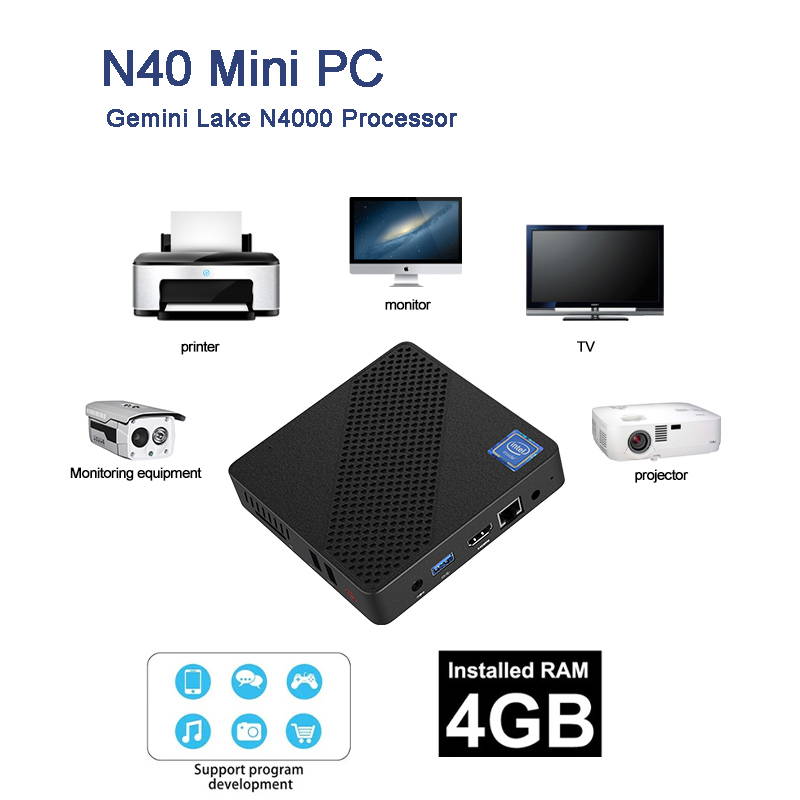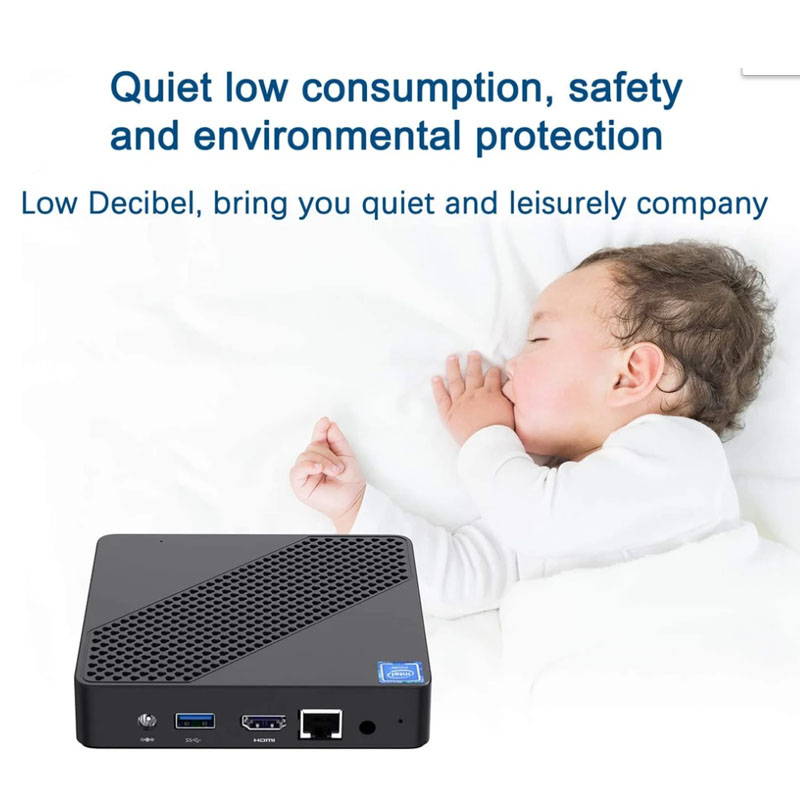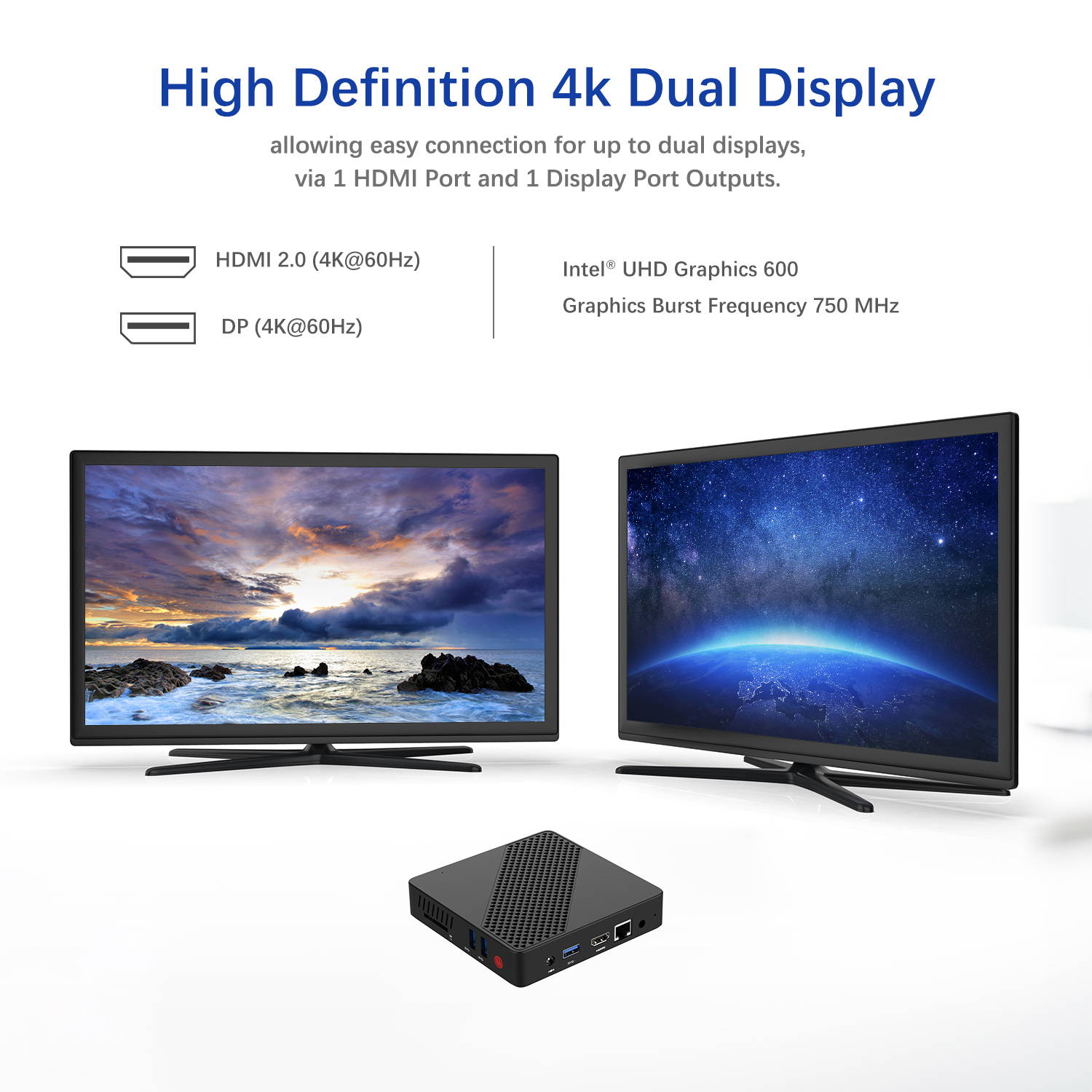 Multiple Application Options
N40 Mini PC is a ideal device for industrial and commercial ativities. It's suitable for monitor, projector, TV, printer and other office equipment.
High Efficient & Silent Design
N40 Mini PC is low consumption, satety and environment protection. Bring you a silent environment to work or have a meeting.
High Definition 4K Display
With high definition 4K dual display, N40 Mini PC offers you the most clearest and fluent experience. Have big fun while playing games with friends and family.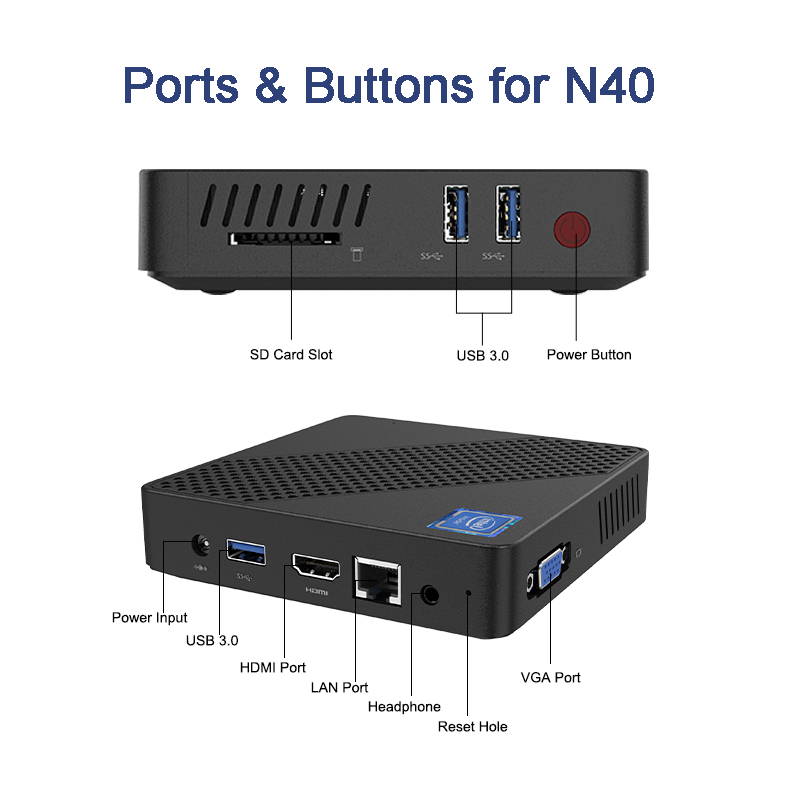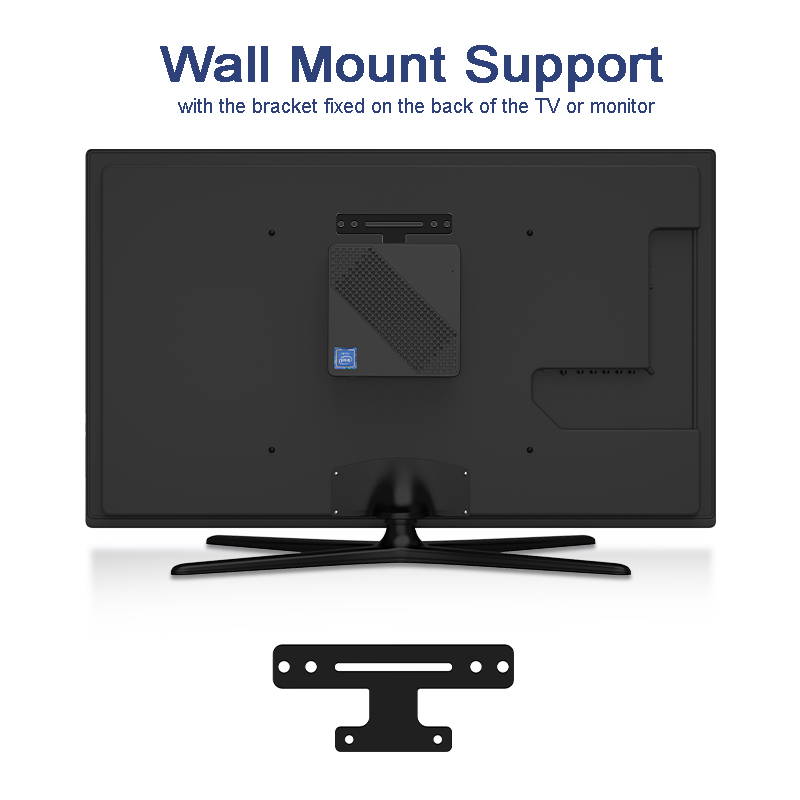 Large Capacity & Extended Storage
This N40 Mini PC can be upgraded to a higher storage to ensure you have enough storage to use.
Ports & Buttons for N40
1* Power Input     1* HDMI Port
1* LAN Port         1* Headphone Jack
1* Reset Hole       1* VGA Port
1* SD Card Slot   1* Power Button
3* USB 3.0
Wall Mount Support
With the wall-mount bracket available, the slim N40 is perfect for use in any business environment, also it saves your rooms. Tips: the wall mount has already been included in the package.
Intel® Celeron® Processor N4020 , 2 Cores/2 Threads (4M Cache, up to 2.80 GHz)
1×M.2 2242 SATA SSD Slot (up to 1TB , SATA 3.0 6.0Gb/s)
1×SD Card Slot (up to 128GB)
IEEE 802.11ac Dual-Band Wi-Fi,BT4.2 / BT5.0
① HDMI 2.0(4K@60Hz)
② VGA Type Port
HDMI 2.0 , 3.5mm Audio Jack
RJ45 Gigabit Ethernet Port×1,USB 3.0 Port×3 , SD Card Slot×1 , DC Jack×1
1 * Power Input
1 * HDMI Port
1 * LAN Port
1 * Headphone Jack
1 * Reset Hole
1 * VGA Port
1 * SD Card Slot
1 * Power Button
3 * USB 3.0
DC 12V/1.5A (adapter included)
Consumes Power : 18W
1 * Minisforum N40 Mini PC
1 * Power Adapter
1 * Mini DP Cable
1 * HDMI Cable
1 * Mounting Bracket
1 * User Manual

Q1: What's the power source?
A: The power management of N40 is Adapter DC 12V 1.5A (100-240V,50/60Hz) included.
Q2: Can Ubuntu be installed?
A: Yes, it can support to install the Ubuntu. It is preinstalled with the windows 10 pro so you need to install the ubuntu by yourself. If you need any technical support, please contact us.
Q3: Is it plug and play? Is windows already installed and a license in place, or do I need to purchase the license?
A: It comes with Windows preinstalled and activated. When you turn it on you set yourself up as a new user, or you can enter your existing Windows user info if you already have it. You don't have to pay extra for a license.
Q4: Does this come with a ssd drive? What capacity?
A: Yes, it comes with a 64GB SSD system drive. So it's fully functional right out of the box. You can expand the capacity with the SD Card or M.2 2242 NGFF SSD port if you need additional storage space.
Q5: Can this play hd video for digital signage smoothly and reliably all day off usb memory chip and google drive to update?
A: Yes, it is not a problem to play the hd video all day. Do you need to turn on the function of auto power on?
How to turn on "Auto Power On" : Restart, press DEL repeatedly to nter BIOS-> BOOT-> Auto Power On-> Enable-> press F4 Save and Exit.
Q6: I see it comes with Windows 10 pre-installed, but do I also need to purchase a separate license key? Or is it truly ready to go right out of the box?
A: You don't need to purchase a separate license key.The windows 10 system has been activated which is written to the BIOS.Therefore it won't go right out of the box as well.
Q7: Does this mini-PC have built-in speaker?
A: Sorry that this mini pc has no bulit-in speaker, it has a microphone jack, you could connect the speaker via this jack.
Q8: Will bluetooth headset microphone work?
A: Yes, the product built in BT4.2 or BT5.0, so it will work with your bluetooth headset microphone.
Q9: Is this powerful enough to run Zoom conferencing?
A: Yes, I've used Zoom many times on this PC. It's not super powerful but it gets the job done. Well with the purchase.
Q10. Will I need to pay custom duties or taxes on my orders?
A: Items shipped from all our warehouses are not subject to export taxes. However, if you are shipping an item from one county to another (shipped from China), you may be subject to pay local taxes and custom duties on said item. The customer is solely responsible for these expenses.